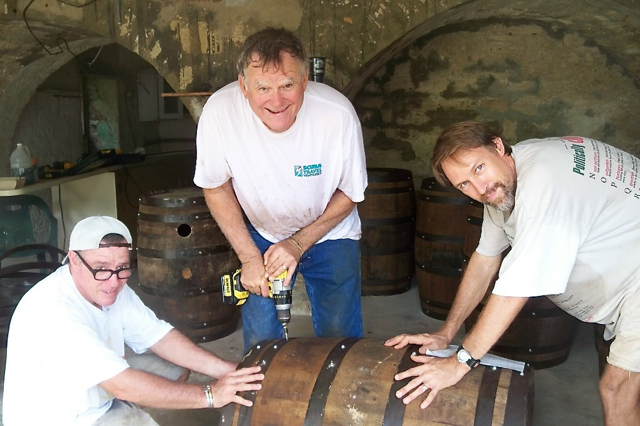 A small group of locals got together Saturday at the great house at Estate Pearl and refitted retired rum barrels for trash and recycling receptacles. The barrels are destined for downtown Christiansted, where years ago business revolved around the rum industry.
Volunteers from St. Croix Environmental Association, the Christiansted Restaurant and Retail Association and the Christiansted Community Alliance are spearheading the project and Michael Dance, SEA volunteer, is coordinating. Diageo donated the barrels and hardware.
Organizers thought the waterfront and nearby areas had a shortage of nice looking permanent refuse containers and recycling containers for aluminum cans. There were only a few blue plastic barrels still around from a project done a few years ago with used Hovensa barrels.
Dance said the group plans to place a dozen retired oak rum barrels from the Captain Morgan distillery in pedestrian areas. Ten will be used as trash receptacles and two for aluminum cans to be recycled.
Organizers are working with the Department of Public Works to place bins on in areas that will not impede foot or motorized traffic. The Historic Preservation Committee has approved the proposed locations and is finalizing anti-litter slogans on the barrels to increase visibility and encourage proper use.
In the storage garage under the great house, four guys drilled holes in heavy oak barrels and fitted them with hinged lids, safety chains, hasps and locks Saturday afternoon. The barrels will have a plastic or rubber inner liner. They will be secured and bolted to the sidewalk/boardwalk through the bottom. If the barrels have to be moved the securing bolt will be accessible from inside. And they will be treated to keep termites at bay.
The Christiansted business community is "taking ownership," adopting barrels to ensure they are maintained, emptied regularly and do not become eyesores. The barrels will be locked with a key or combination. Dance said they have commitments from 10 businesses.
Members of the St. Croix Boys and Girls Club will collect the aluminum cans from the recycling barrels and any funds generated will go to the club.
Dance said they have scheduled work parties to finish the project.
A work party is scheduled from 9 a.m. to 3 p.m. Saturday. Dance said they need artistically inclined volunteers to paint lettering on the barrels. And they still need volunteers with drills to add the re-enforcing interior bands, hinges, hasps and retaining chains, and others to coat the barrels with anti-termite solution and add a protective coating. The week of Nov. 18 to 22 volunteers will be needed to help transport, place and secure the barrels.
Those interested can volunteer or get more information by calling Dance at 1-340-642-8440.
A map of proposed locations, including photos of locations with rendered barrel placement, can be viewed by clicking here.