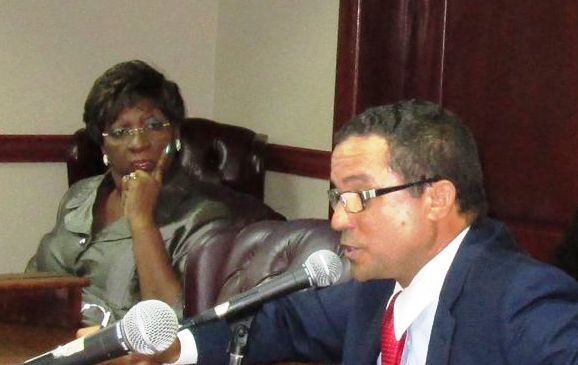 Anyone who is owed anything by any V.I. government entity, whether part of the government like the Police Department or autonomous like hospitals and universities, could deduct that debt from their excise or real property tax bills, if a bill considered in the Finance Committee on Tuesday becomes law.
The bill sponsored by Sen. Alicia "Chucky" Hansen requires "the director of IRB" to offset the gross receipts and excise tax liability of any person or business that can demonstrate, by showing a court judgment or similar proof, that V.I. government entity owes that person or business money. The amount that can be offset is capped at $1.2 million.
"It is common sense," Hansen said, introducing the bill. [30-0125] "How is the government going to sell people's property when the government owes money for retroactive pay or tax refunds?"
She later asked, "How can we be pressuring people to pay when, in some cases, the government may owe them more than they owe the government?"
Internal Revenue Bureau Commissioner Gizette Watson-Anderson, Finance Commissioner Angel Dawson and Tax Assessor Ira Mills all argued the bill would be effectively impossible to implement right away, because some agencies, especially semi-autonomous agencies, have their own accounting systems, that are not all connected with IRB and the central government's digitized accounting system.
"It will require a different accounting system than the one currently in place, the legality of which would be highly questionable," Watson-Anderson said. The offsets would need to be closely monitored to ensure the debts are real and are only counted one time, she said. "Who will be responsible for the large scale reconciliation process to verify that the offset amounts are indeed valid debts of the government?"
It would need new resources, new employees and new training, and there is no funding for any of that, she said.
Mills argued similarly. "The territory's existing technical infrastructure would make this process of offsetting a nightmare to administer. It would require that all government agencies be networked on the same computer system, which is not a cost the government can absorb at this time," Mills said.
Dawson raised concerns that the legislation could create a $200 million hole in the budget, if all the employees that are owed retroactive pay from past decades offset the retroactive pay in their tax returns next year.
Several senators questioned if Dawson was saying the government did not owe the money.
Dawson replied that the money was owed, but that there had to be money appropriated to pay it and it had to come from somewhere.
"If we were to be looking to liquidate that in one year, we would need $200 million in cash," he said. "Although we recognize it is an obligation, we would need to replace that and, at the end of the day, it comes back to something (the Legislature) would have to grapple with," he said.
Joe Hollins, owner of Tip Top Construction, testified in support of the bill, saying some stateside jurisdictions allow people to offset government debts from their taxes. Hollins said he is still waiting payment of roughly $300,000 for emergency road work he did in 2009. None of the government officials present were familiar with that particular contract.
Dawson said sometimes exigency contracts, where the money was not appropriated ahead of time, result in long delays in payment, but that he did not know the circumstances in this case.
The bill was held until the next hearing due to a lack of a quorum.
The committee also took testimony on a bill from Sen. Terrence "Positive" Nelson that would give a 20 percent discount for paying Gross Receipts Tax early, lowering the effective tax from 5 percent of receipts to 4 percent and several other measures. That bill was held, on Nelson's motion, for further amendment.
Present at the hearing were Nelson, Sens. Myron Jackson, Clifford Graham and Nereida "Nellie" Rivera-O'Reilly. Sens. Judi Buckley, Donald Cole and Clarence Payne were absent.