Some V.I. public schools could convert to charter schools, with independent boards of trustees, independent control of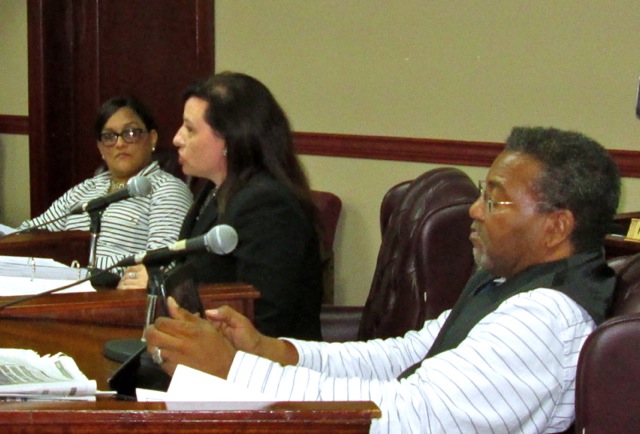 curriculum, methods and hiring, and public funding based on student population, if a measure before the V.I. Legislature is enacted into law.
Supporters of the bill, including the St. Croix Foundation and V.I. Board of Education, presented data to the Committee on Education and Workforce Development on Tuesday, suggesting charter schools can bring improved educational results, especially for black and Latino students, without breaking the bank.
St. Croix Federation of Teachers President Rosa Soto-Thomas testified her union opposes charter schools and said she sees them as "union busting" and a back-door route to privatizing public schools.
The bill sponsored by Sen. Nereida "Nellie" Rivera-O'Reilly would also allow brand new charter schools, if a group has the wherewithal to build one. It would create a nine-member volunteer board, called the "Virgin Islands Charter School Council," composed of retired teachers, school administrators, Bar Association officials and others, according to a complex formula.
Any person or group legally able to do business in the territory could file a plan with the council to convert an existing school to a charter school. They would have to submit detailed plans, including curriculum, an overall philosophy, class structure and two years of budgets. Any such school would also have to have a board of trustees. And they would have to file a petition signed by at least 51 percent of the parents of minor children, adult students and full time staff at the school.
Then the plan would go before the council, which would hold public hearings and render a decision, in a similar fashion as the V.I. Coastal Zone Management Commission handles zoning requests.
Schools would have to admit students by lottery and could not restrict admissions based on past performance or other factors. The schools would remain public and would not charge tuition.
O'Reilly said her goal was to do something to help V.I. public school students get ahead.
"Fifty percent of students are performing below proficiency levels," O'Reilly said. "Another 50 percent are at level or above, but I want to focus on the ones we leave behind. Our education system is unable to meet their needs."
O'Reilly said, "I have been here long enough to have heard all about the programs the department has implemented. And long enough to know they have not changed outcomes. … After struggling to stay above the surface their little hands and legs get tired and they sink to the bottom. It is time we threw them a lifeline. … If not charter schools then what? What other options are available right now? If not now, When?" she asked.
Deanna James, chief operating officer for the St. Croix Foundation, gave some background and data on charter schools. She recounted that Microsoft founder Bill Gates spent more than $2 billion to raise college-ready high school graduations rates, but concluded the efforts had not achieved much result. She said Gates concluded many of the small schools that they invested in did not improve student achievement in any significant way.
"These tended to be the schools that did not take radical steps to change the culture such as allowing the principal to pick their team of teachers or change the curriculum," she said.
Some schools, however, had dramatic improvements in achievement and student expectations. "Almost all of these schools were charter schools that had significantly longer school days than other schools," James said.
The St. Croix Foundation supports the bill, but only with several amendments, James said. The foundation wants a mandatory background check and a proven track record of past success for all potential charter school operators. And it would like members of the council to be appointed not just by the governor, but also "another entity," such as the University of the Virgin Islands, the V.I. Bar Association or the Chamber of Commerce, she said.
Amendments already prepared for the bill "address all of our concerns," James said.
Lisa Grover of the National Alliance for Public Charter Schools testified in support of the bill, giving a national snapshot of the charter school movement. Currently there are more than 6,000 charter schools serving 2.3 million students, with close to 900,000 on a waiting list to enroll, Grover said.
Data gathered by the Center for Educational Research Outcomes released a larger study of charter schools, finding that students received more hours and days of learning than noncharter school, and black students in poverty showing the greatest gains, with 29 additional days of reading and 36 more days of math compared to their traditional public school counterparts, she said.
Dekalb Academy of Technology and Environment Elementary and Middle Charter School Headmaster Maury Wills and Principal Edward Wilson talked about their experience running a charter school for the last nine years.
After nine years of operation, the school's students are doing well, with reading scores in the 99th percentile, English scores in the 98th percentile, math in the 90th percentile, and scores in the high 80th percentile in other subjects, Wills said.
Soto-Thomas said the union supports charter schools in principle, as "incubators of innovative approaches to teaching and learning."
But she opposed the approach suggested in the bill, where a separate, incorporated entity would run the school, saying "the corporate model of school reform seeks to turn public schools over to private managers and encourages competition as opposed to collaboration between schools and teachers."
This sort of charter school could be a way to privatize the schools, to the detriment of teachers and students, Soto-Thomas said.
"School closures have become a strategy to transfer students from public to privately operated schools," she said. Soto-Thomas also asserted that no research has shown that the switch from public to private management of school improves student learning.
"While this bill forbids direct for-profit management, we know that for-profit companies are starting to reincorporate or create nonprofit subsidiaries in order to get around such laws," she said.
Soto-Thomas said the employees would not be hired according to the usual process and would not be subject to the same bargaining agreement, so a charter school is a kind of "union busting."
Sen. Terrence "Positive" Nelson asked if charter schools can unionize.
"Nothing prevents it," Grover said. "I believe about 6 or 7 percent of charter schools are unionized. The difference is the school is not part of the existing bargaining unit."
Tuesday's hearing was held on St. Croix. The bill will be discussed again Wednesday on St. Thomas, where Acting Education Commissioner Donna Frett-Gregory and St. Thomas Federation of Teachers President Vernelle Delagarde are scheduled to testify.
The committee also heard testimony on a bill, sponsored by Sen. Judi Buckley, to ban corporal punishment in schools. Education Department and Board of Education officials testified in support of the ban, saying it is rarely done but is not applied consistently or predictably and has been subject to abuse. Several experts in the field, including ACLU Senior Legislative Counsel Deborah Vagins, testified to the increasing number of jurisdictions banning the practice and to data indicating that corporal punishment delivered outside the supportive environment of the home leads to far more problems than it solves.
Most senators spoke generally in support of the measure, but several objected to criticism of corporal punishment as "barbaric," saying many parents are doing the best they can to raise children and just because there is corporal punishment in the home does not make them bad parents. Sens. Kenneth Gittens and Alicia "Chucky" Hansen both said they would vote against the bill in any form, on the grounds that physically striking children as punishment is a part of V.I. culture and so should be preserved, and that taking that tool away from teachers would make students even more aggressive.
"Outlawing corporal punishment, in my view, just opens the window to allow the type of bad behavior we see exhibited today," Gittens said in a statement after the hearing. "While the bill seeks to ban what the sponsor of the bill considers to be abuse, we must be careful as to how this bill will be perceived by students and what will be considered as corporal punishment."
Gittens said he would instead support legislation to better regulate and define when, why and how force of any kind is used by school officials.
Buckley moved to hold the bill in committee for several amendments. Voting to hold the bill were Buckley, O'Reilly, Sens. Donald Cole, Myron Jackson, Tregenza Roach and Sammuel Sanes. Sen. Janette Millin Young was absent.