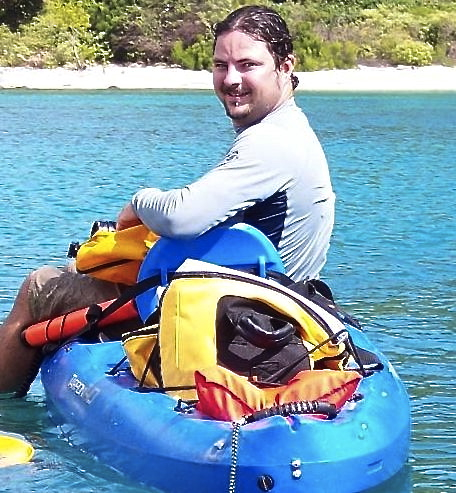 Despite its extensive development, St. John still has plenty of remote spots left to explore, and Hidden Reef Eco-Tours takes kayakers to one of them – Haulover at Round Bay. Paddlers can snorkel right off their kayaks.
"We specialize in small groups and very personalized types of tours," owner Walter Mayo said.
Hidden Reef offers two-hour and three-hour tours in groups with six to eight people aboard sit-on-top kayaks.
Mayo said that most of Hidden Reef's guests are visitors, but some locals enjoy a guided trip. And with local residents soon to get visits from their off-island friends and family, a guided kayak trip gets them out on the water for several hours.
The 40-minute drive from Cruz Bay is a bit of a trip, but that's part of the allure. It's also part of the challenge of running a business at a remote location. Mayo said that people need a car to get there since there is no bus service, and many visitors just don't want to make the trip.
If they do, there are rewards. There are no crowds, parking along the side of the road is easy and the water is sheltered and pristine.
"I've seen stuff out there I've never seen anywhere else," Mayo said, ticking off a long list of sea life that included furry tail and tiger tail sea cucumbers, squid and octopus. The bay is also home to spotted eagle rays and giant sea anemones, Mayo said. And there are times when paddlers see dolphins swimming by.
With a bachelor's degree in parks, recreation and tourism management from the University of North Carolina, Mayo aimed to get involved in the tourism industry. He's also certified by the American Canoe Association as a level-four sea kayaking instructor.
He was born in Arecibo, Puerto Rico, because his father was in charge of computers at the Arecibo Observatory, but the family moved to North Carolina when he was one and a half years old, then on to Plainsboro, N.J., where he graduated from Plainsboro High School.
Along the way, he married Amy Mayo and they had two children, 5-year-old Harper and one-and-a-half-year-old Aleia.
He said that after college he worked at William B. Umstead State Park in North Carolina, where he met woman who hailed from St. John who was doing an internship at the park. He can't remember her name, but said she got him interested in moving south.
Mayo made the move to St. John, stayed two years but realized he needed more experience. He returned north, working at high-end resorts in guest services management but keeping his kayaking paddle in the water.
In 2006, he opened Hidden Reef. He's unsure what's ahead, but recently expanded his kayaking operation to Hammocks Beach and Carolina State Beach parks.
More information is available online at www.kayaksj.com or by calling 1-340-513-9613 or 1-877-529-2575. Those headed to North Carolina who want to go paddling can visit www.paddlenc.com.