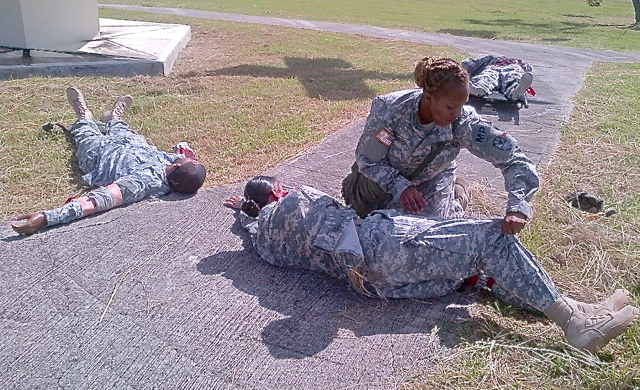 Last week, 19 non-medical members of the Virgin Islands National Guard on St. Croix learned some practical life-saving skills at the Col. Lionel Jackson Readiness Center to backup combat medics on the battlefield.
The Army Combat Lifesaver Course covered 15 medical competencies, from elementary medical care under fire and moving casualties, to procedures for requesting medical evacuation. VING members become certified or re-certified annually for combat care support that may be necessary during deployments and other missions.
Non-medical service members take the course every year to become certified or re-certified during the four day Combat Lifesaver Course. Sgt. 1st Class Lucita Phillip, a combat medic/EMT with the VING Medical Detachment, has taught the course for the last four years. Service personnel learn how to carry injured soldiers and evacuate casualties to a designated area. They also learn how to apply field dressings, tourniquets and nasal breathing aids.
"The course is bridging between self aid and buddy aid on and off the battlefield," Phillip told the Source. "Life saving is the second Army mission, because combat is always the first."
Although the soldiers learn to help out in emergency situations, they never forget their primary mission is combat. After graduation, the CLS graduates are assigned to units throughout the V.I. National Guard. The goal is one trained combat lifesaver for every 10 soldiers, Phillip said.
One of the most difficult exercises during the course was the mass casualty incident exercise, Phillip said. On St. Croix, the exercise, simulating battle conditions, took place Friday at the VING Bethlehem Military Training Installation. During the MASCAL, the students demonstrated their medical competencies dealing with several casualties at the same time. The "casualties" suffered from gunshot wounds, broken limbs and amputations. The goal was to determine priorities, learn to work as a team and move the casualties to a safe area, Phillip said. They also tested their knowledge of radio operations to request medical evacuation services.
Earlier this month, 18 VING soldiers on St. Thomas completed the combat lifesaver course at the Sgt. 1st Class Leonard B. Francis Readiness Center.