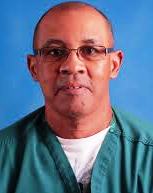 As a front-line provider who works nights in the Schneider Hospital Emergency Room, Dr. Clayton Wheatley has a ringside seat to the rampant violence in our community.
"It's a different St. Thomas from the one I grew up in, much more violent," Wheatley told the Tuesday meeting of the Rotary Club of St. Thomas Sunrise. "This was evident last week when, in four shifts, I treated five victims of gun violence."
The Schneider Emergency Room director is one of a series of speakers the club has invited to speak in its Practice Peace initiative. Peace and conflict resolution is one of Rotary International's six areas of focus and will be the core focus for Rotary Sunrise during its 2013-14 Rotary year.
The club has invited a wide swath of community members, each with a singular perspective on creating peace in the community, or, if you prefer, combating violence.
Speaking of the gun victims, Wheatley said, "We see a couple different scenarios. Usually they arrive in an ambulance, but sometimes they'll come screaming into the ambulance bay in the back of a pickup truck, and we are forced to scramble to get everything together."
"That was the case in one gunshot victim who arrived in the back of a pickup with four obnoxious friends," Wheatley said. "The 19-year-old victim was shot in the back. The bullet went through his abdomen and entered his arm. He will be paralyzed for life."
"Another victim," Wheatley said, " was shot while sleeping in his car, fracturing his leg. He told us he had no beefs, no clue who could have done it. This is the scary part. The violence is random. You don't have to be involved in any illicit activity. This impacts the behavior of the community. I like to go out to clubs at night, for instance, but I think twice about it now."
Born on St. Thomas, Wheatley said he experienced a peaceful childhood on Garden Street, with friendly, watchful neighbors. He said he could go anywhere on the island in safety. "Now, it's not safe to go to Savan if you live in Paul Pearson Gardens."
Wheatley graduated from Tufts University Medical Center in Boston and, while doing his residency at Jacksonville Memorial Hospital in Miami, he found his passion for emergency medicine. He was a partner in an Atlanta trauma center for 18 years when Dr. Ruth Watson, a family friend, lured him back to the island in 2005 to take his current position.
As for motives leading to violence, Wheatley said it's greed to a large degree, getting the money to buy drugs. "Robbing at gunpoint to get cash is prevalent now," he said. "Drugs have reached an incredible level – crack, crack cocaine and marijuana. We have such a large coastline that it's difficult to control."
In answer to a member's question, Wheatley said heroin isn't a problem because of the "Virgin Islanders' fear of needles."
He said, "Mistrust of the police is common. You hear time and again of victims reluctant to talk because of the mistrust. And unfortunately there's a degree of truth in that."
Wheatley said it concerns him to see some policemen interrogating victims in the ER. "It's hard to be part of watching them interrogate our patients who are an extension of our care. Their manner alienates the victim."
As far as solutions, Wheatley was not optimistic. "When I grew up, we were not only under the authority of our parents, but our parents' friends, who would tell out parents. We knew we'd be called on our behavior. Now it's just easier to look the other way. We need to redevelop neighborhoods. This needs to be changed. The community has fallen on hard times."
He praised My Brothers' Workshop, which trains young men, giving them a skill and a place in the community. "Things are changing with My Brothers Workshop, where the young men no longer feel the sense of hopelessness. And we do have neighborhood associations trying to help, so maybe we can turn it around."
When Wheatley was asked about the monetary cost to the territory of the violence, his answer was chilling. "Just the one gunshot victim who will be paralyzed – his off-island medical care, cost of transporting him there, and aftercare, physical therapy, will cost the taxpayers about $75,000. And he will always be dependent on government care."
Rotary's 107th birthday on Feb 21, also known as World Understanding and Peace Day, is being targeted as the kick-off date for a major peace summit. These talks by local community leaders, whose work is focused within those areas affected by violence, as well as individuals who hold the keys to solutions, pave the island's road toward that summit.
For more information on these speakers or how you can support this community effort, contact Pennington at 340-777-8144.