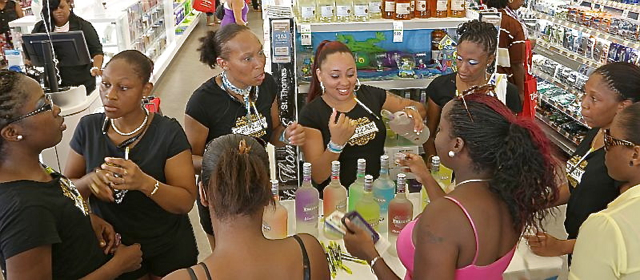 Walgreens representatives didn't even get a chance Saturday morning to finish their grand opening program before the sea of shoppers gathered in front of the company's new store in Estate Tutu began chanting for the speeches to stop and the doors to open.
Saturday's opening has been highly anticipated on St. Thomas – even more so after the electronic billboard in front of the store began advertising deals as early as Thursday afternoon. News circulated about a parade, giveaways and even an appearance by Gov. John deJongh Jr., who did roll up early Saturday to begin greeting residents.
Ivanna Eudora Kean High School's Marching Rays, along with the St. Thomas Majorettes and other local favorites headlined the parade, which started near Fort Mylner and wound its way up the street to the store. Meanwhile, the crowd watching from the parking lot began to rapidly expand until, around 10:30 a.m., the line of shoppers waiting to get in had grown so long that it began to snake around the building and run toward the street.
"We're very excited to show you this new Walgreens because we believe we're delivering to you an unmatched experience in retail pharmacy," said Nivia Santiago, Walgreens' regional vice president of marketing, during Saturday's ceremony.
Santiago explained that the entire store is geared toward "wellness" and customer satisfaction, featuring, among other things, a healthy produce section, an expanded beauty section and a special consultation area where customers in need of extra help can interact directly with a pharmacist.
Customers can take advantage of photo services along with kiosks for printing. The store will also carry beer, wine, spirits, duty-free jewelry and V.I. souvenirs. Customers can order prescription refills online at Walgreens.com or through its mobile app.
Also speaking during the ceremony, deJongh said that St. Thomas' Walgreens is one of the first in the chain's more than 8,000 stores to feature the new format, which other speakers said Saturday was designed to help customers "get, stay and live well."
"It is always a pleasure for me to be part of something new that, more than anything, helps the Virgin Islands," said deJongh, who added that it is good to see, in the current economic climate, a company that will come in, invest in the local community and employ Virgin Islanders.
The 18,000 square-foot store on St. Thomas – the first outside the continental U.S. and Puerto Rico – employs 30 people, and Santiago said Saturday that it is important for the company to maintain a local presence within the communities it serves.
"We are excited about this new store, the changes we've made, and how we are better able to meet the needs of the customers and patients that we serve," Charles Bernard, Walgreens' Corporate vice president for the Southern U.S. and Puerto Rico, also said Saturday. "We want to be this community's trusted resource and health-care destination, for all of your pharmacy, retail and every day shopping needs."
After Bernard's speech, Santiago looked to wrap up the ceremony quickly with check presentations to both the United Way and the Caribbean Exploratory Research Center, but only got a few seconds into the first part of the presentation before the crowd started chanting, "Open the door."
Assuring shoppers that the official ribbon cutting was just moments away, Santiago presented each organization with a $2,500 check, then stood to the side as the crowd began to back up and prepare for the double glass doors to open – and then close again shortly after, as the store quickly filled to capacity.
Throughout the morning, as the line continued to swell, the doors were closed more than once and re-opened only after large groups exited the building.
According to a March 2013 press release from Walgreens announcing the opening of an outlet in Evanston, Ill., Walgreens has 8,071 stores in the 50 U.S. states, Washington, D.C., and Puerto Rico. It serves six million customers daily and logged $72 billion in sales in fiscal year 2012.
The new Walgreens will be open from 8 a.m. to 10 p.m. every day, with pharmacy hours from 9 a.m. to 9 p.m. weekdays and 10 a.m. to 6 p.m. on weekends. The store phone number is 340-777-9255.