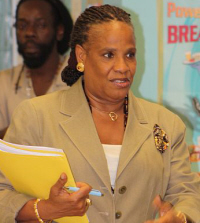 With too few students registered for Coral Bay's Guy Benjamin School kindergarten and first grade and the need for a second-grade teacher at Julius E. Sprauve School in Cruz Bay due to a recent resignation, the Education Department will make some changes at the St. John schools just a week before school starts.
"We know it is late. We had to wait for the latest possible time for registration," Insular Superintendent Jeanette Smith-Barry said at a meeting held Monday at Sprauve School.
She said that first grades from both schools will be consolidated at Sprauve. The first-grade teacher from Guy Benjamin will teach second grade at Sprauve. Guy Benjamin will also have a second grade.
Smith-Barry said the department is looking for more teachers but the need is greater on St. Thomas so any newly hired staff won't be slated for St. John.
What the department will do about kindergarten will be decided by tomorrow, Smith-Barry said.
After more than an hour of discussion and asking the kindergarten parents of students from both schools what they wanted to happen, she agreed that Sprauve Principal Dionne Wells will call parents of kindergarten students who live in the Coral Bay area but are registered at Sprauve to see if they will instead send their children to Guy Benjamin. Smith-Barry said that unlike the other islands, St. John parents may send their children to either school without consideration of where they live.
"I don't have a problem selling Guy Benjamin," Wells, who previously served as principal at Guy Benjamin, said.
Guy Benjamin has 9 students registered for kindergarten but Sprauve has 31, more than the 25 allowed per classroom by union contract. Barry said the choice that would inconvenience the least amount of parents was to switch the Guy Benjamin students to Sprauve but that she would wait until Tuesday to see if Wells could convince enough Sprauve parents to make the change to Guy Benjamin, so class sizes would be about equal.
Moving all the kindergarteners to Guy Benjamin apparently won't work because the classrooms are too small.
Some parents at the meeting had issues with switching their children from Sprauve to Guy Benjamin.
"In an emergency, it's easier to get here. I'm not into busing," one man who wanted to keep his child at Sprauve said.
Another woman said that if her child switched to Guy Benjamin, she wouldn't have any way to get to her if she was sick because she didn't have transportation to Coral Bay.
At issue for the parents were transportation and uniforms because the schools have different uniforms. Smith-Barry said the department had the transportation issue sorted out and Coral Bay Community Council President Sharon Coldren said the organization would get donations of uniforms for students who switched to Guy Benjamin.
Smith-Barry also said that the department might pick up the cost for the appropriate uniforms or students might be allowed to wear the uniforms they have.
Coldren and Sen. Craig Barshinger both spoke about the sense of community at Guy Benjamin. Barshinger also noted that although Guy Benjamin once had dismal test scores, they're now very high.
"There's something very special at Guy Benjamin," he said.
Addressing rumors that the needed consolidation of classes was part of a plan to close Guy Benjamin, Smith-Barry was firm. "There is no plan to close Guy Benjamin School," she said.
However, she said it does raise the possibility of making Guy Benjamin the island's only primary school with grades kindergarten through three, but the department needed to solve the current dilemma before tackling that issue.