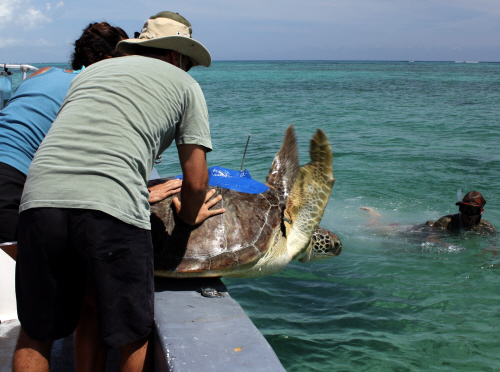 Suzie, the first turtle to be satellite-tagged by the Turks and Caicos Islands Turtle Project, has turned up in the U.S. Virgin Islands, more than three years after her satellite tag stopped transmitting, according to a news release from the U.S. Fish and Wildlife Service.
Earlier in August, wildlife researchers at Sandy Point on St. Croix spotted a turtle with flipper tags. Carefully approached the nesting, female green turtle, they recorded the numbers on her tags and realized they did not belong to the Sandy Point project.
U.S. Fish and Wildlife Officer Claudia Lombard reported the sighting to a regional sea turtle conservation network. The network in turn contacted TCI Turtle Project coordinator Peter Richardson at the Marine Conservation Society.
"I almost fell off my chair when I checked our records and realized the flipper tags belong to Suzie," Richardson said. "Because she was the first turtle we satellite-tagged in TCI, she is very special to the project and many people in the islands.
"To learn that over three years later she is alive and well and nesting, indeed continuing to contribute to green turtle conservation in the Caribbean, is very exciting news. The St. Croix report didn't mention a satellite tag, so I guess it dropped off just like it was supposed to, and Suzie is carrying on with her life. We wish her and her hatchlings good luck!"
Closely related to the hawksbill turtle, the green turtle can live up to 80 years in the wild.
Suzie was satellite-tagged by in June 2009. She became famous when she left her foraging grounds off East Caicos in September of that year and embarked on a 3,700 mile-migration through the territories of 15 Caribbean range states before returning to TCI in January 2010.
The turtle became a national celebrity in the TCI as local people followed her amazing journey online, and her story was also covered by the BBC, The Times and The Telegraph in the UK. Some fishermen working with the project said that Suzie's journey had changed the way they think about TCI's turtles.
Suzie settled back on her East Caicos foraging grounds, where she stayed until her tag fell silent in May 2010. Richardson said he is still puzzled by her migration.
"When we tracked her, she swam straight past the USVI early on in her journey, and her tracking data suggested she may have nested once in Barbuda before continuing her bizarre and lengthy migration – we struggled to understand why she would migrate such a long way for just one clutch of eggs," Richardson said.
"It makes more sense to hear that she is now nesting in the USVI. The genetic analysis we carried out on her tissue samples is consistent with the genetic identity of the green turtle population nesting in USVI, so it is clear that she is part of the USVI breeding population. Nevertheless, her long migration in 2009 and 2010 remains a mystery. Perhaps by chance, we tracked her first attempt at a nesting migration, and as a novice she simply missed her target destination."
One of these turtles, Jewel, an adult female hawksbill turtle, was satellite tagged shortly after Suzie in October 2009 and her tag is still transmitting from where she lives in her foraging grounds off East Caicos, almost four years later.
Jewel has not left TCI waters in all that time, but the tracking did follow her two recent nesting seasons, one in 2009 and one in 2011, both on the same East Caicos beaches.
More information is available by calling Richardson at +44 (0)1989 566107/ or +44 (0)7793 18383/. He can also be reached by sending email to peter.richardson@mcsuk.org.