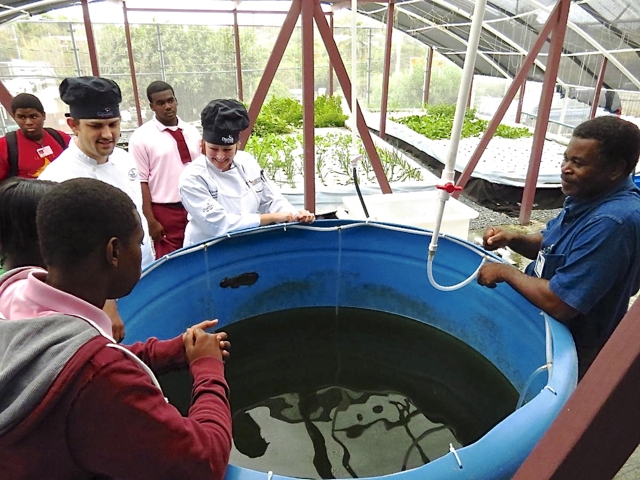 The White House has taken notice of the aquaponics program at Ivanna Eudora Kean High School, calling it "a very smart way to incorporate healthy eating into the high school's daily routine."
The program was featured on the Let's Move blog, part of first lady Michelle Obama's campaign to raise a healthier generation of kids.
The article, posted Friday by Chris Kelly of the USDA Food and Nutrition Service, focuses on the program created by teacher Kirk Lewis.
Aquaponics is a system developed and refined on St. Croix at the University of the Virgin Islands. Through aquaponics, tilapia are raised in tanks; the water from the fish tanks is circulated to floating hydroponic beds where vegetables grow, drawing the water up through their roots and using the fish waste as nutrients. The water thus cleaned is then recirculated to the fish tanks.
The Kean program started up in April 2012 with a $22,000 appropriation from the Legislature. Students tend the fish tanks and the gardens, keeping track of ph levels and
Kelly's article on the Let's Move blog noted that the students learn a wide variety of skills and knowledge.
"I marveled at how teacher Kirk Lewis … had created a fully-functional vegetable farm and fish hatchery where students learn practical skills," Kelly wrote. "Students harvest the tilapia when fully-grown and prepare them, along with the bounty of vegetables, to supplement the fresh food offerings in Kean's cafeteria. … His students are not only learning marine biology, chemistry, and cooking, but also business: developing, marketing, and selling food."
Kelly quoted student Clemon Lewis, who explained the process, saying proudly, "We're learning with our hands as much as with our brains."
The program is augmented by two chefs of Chartwell's Dining Service, a company contracted by the V.I. Department of Education. The students learn how to safely harvest and filet the tilapia. The fresh filets were then sent to the school's culinary arts class for cooking and taste- testing.
Lewis is quoted in the article expressing his vision for the program.
"I hope some of these kids, after attending an institute of higher learning, will remember some of these lessons and become agriculture entrepreneurs here in the Virgin Islands," Kelly quotes him as saying.
The article on the Let's Move site is part of a series on programs teaching healthy eating and food skills from around the country. Other installments in the series include programs in Minnesota, Arkansas, Connecticut and Colorado.