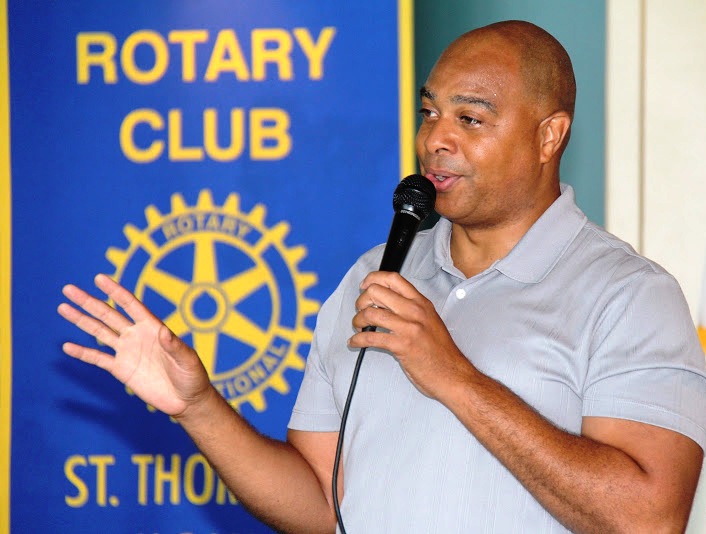 Grammy Award-winning drummer Dion Parson loves making music only slightly more than he loves making musicians.
Parson, who was on St. Thomas this week as he frequently is, told a group of fans and Rotarians at a luncheon meeting of Rotary St. Thomas II that young musicians need to be literate if we expect to save and promote the unique Virgin Islands culture.
"We need English, math and science," he said, "to function on this planet."
To that end Parson founded "Mentoring Through the Arts" four years ago to "guide young people to their profession."
Parson, who is lined up to perform at various venues throughout St. Thomas and beyond for the next year or two, often spends two weeks a month in the territory, performing as he did Friday night at Jazz in the Park and working in middle schools and high schools giving students a "real time" perspective of their future possibilities.
Four of the students Parson and his colleagues in his 21 Century Band have worked with since the inception of the mentoring program are on full scholarships at stateside colleges and universities, he said.
"But they all were willing to work hard," Parson said in an interview after his Rotary presentation.
Parson, who earned his bachelor's and master's degrees at Rutgers University, has even taught high profile local performers to read music.
"You can't make it elsewhere if you can't read," he said. But there's an even greater loss, in his view.
"Our music is not widely available," he said, because the people who create it are not musically literate. If it's not written down, it won't survive, he added.
But Parson is not a quitter. He is actively engaged, between his heavy performance and recording schedule and his work with Lincoln Center, in bringing music literacy to the Virgin Islands.
He is hoping to see the University of the Virgin Islands pick up the cause by adding more courses, such as a quelbe and calypso classes, to its curriculum.
A lot of the calypsonians are using nursery rhymes and kids' television shows as the foundation for their songs, he said. "You can't take that to the mainland; it's already in copyright infringement."
So his goal through the mentorship program is to raise the bar by offering talented young people a chance to hone their craft through master classes, workshops, one-on-one mentoring by professional musicians, live performance opportunities, college preparatory advice, professional liaisons , cultural exchange opportunities – and the list goes on.
Students are encouraged to sit in on jam sessions and eventually all of them are showcased in Parson's local community concerts.
A big challenge to Parson and his program is the lack of instruments in the territory's schools. He said he routinely donates drum sticks and other items to teachers, but that it's a drop in the bucket. Even where there have been some instruments, they have fallen into disrepair and there's no one to fix them all, he said.
Parson also expressed concern about modern technology supplanting real life learning to play instruments. With drum machines and synthesizers being used more and more, young people don't feel the need to actually master an instrument.
If this electronic reproduction model doesn't change, Parson said he envisions a time when local carnivals will be just DJs playing pre-produced music.
"Can you imagine?"
Parson, who started out playing the trombone and only learned drums after entering Rutgers, got the attention of world famous jazz trumpeter Wynton Marsalis. Marsalis and the Lincoln Center have been intimately involved with Parson, his 21st Century Band and the Mentoring Through the Arts program.
Theoretically on island for a rest, Parson, a product of St. Thomas public schools, was dashing off from the Rotary meeting to another meeting about his program.
Parson sums up his reason for all the hard work by saying, "Skills you develop as a musician are the skills employers are looking for; music is a discipline" – a discipline that Parsons says "helps to sustain our culture."