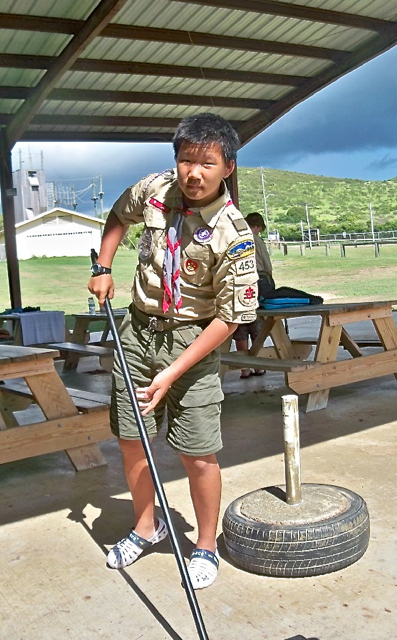 Boy Scouts from the states landed on St. Croix July 6 for "the experience of a lifetime," and Boy Scouts from the territory took off for the states Saturday for what the local Scouts hope will be an equally memorable trip.
Six boys from California and Missouri camped at the Howard M. Wall Boy Scout Camp and 25 scouts from St. Thomas and St. Croix went camping at the National Scout Jamboree at Summit Bechtel National Scout Reserve.
"This whole trip has been the experience of a lifetime," Caleb Griffith, 16-year-old from California said. "Everything has been amazing."
The boys and two leaders had a full agenda while on St. Croix, eating local cuisine, meeting locals, volunteering, and getting historical and environmental tours. The Scout Camp overlooks the sparkling blue sea and is surrounded by lush hills and a spacious lawn.
They began their week with services Sunday at the Moravian Church in Christiansted where the parishioners were having a farewell service for Scouts from church-sponsored Troop 271, who were going to the national jamboree.
The visiting Scouts worked along side inmates from Golden Grove Adult Correctional Facility and Department of Agriculture employees at Estate Whim Museum, helping set up tents for the "Come Home to St. Croix" celebration. Will Farmer, a Montana 14-year-old, said they had a great time exploring the grounds and and learning to make Crucian Johnny cakes and pates in the old-fashioned cookhouse.
Rob Gready, a 17-year-old from Colorado, said working at Whim was a good way for them to give back to the community in a service project.
They got more cooking lessons at the home of Michael Dow and Sonia Jacobs-Dow, where they took shelter for the night from tropical storm Chantal. Michael Dow is the Virgin Islands district executive for .
They had the opportunity to do a bioluminescence tour at Salt River with Sea Thru Clear Kayaks. William Wibberg, a 15-year-old from Missouri, said it was like sailing through space the way the creatures glowed and lit up. Dylan Chennault, a California 14-year-old, said it was amazing and he had never seen anything like it.
The group also got to do a 10-mile hike to Maroon Ridge with William Coles, from the Department of Natural Resources. They went to Point Udall and hiked to Jack and Isaac's Bay to snorkel.
Friday the boys got a ride out to Buck Island in only five minutes on a V. I. Police Department marine patrol boat.
Griffith said Buck Island is better than the Great Barrier Reef and he proceeded to name all the marine life they saw. He said he even got to swim close to a sea turtle, an experience he'll never forget.
He also said his encounter with a centipede in his tent was memorable. The Scouts had Man Soup on the beach with local residents. And they tried local dishes at Kim's restaurant in Christiansted and Maggie's Snackette in Frederiksted.
Saturday evening the group went to Sandy Point National Wildlife Refuge and watched a leatherback turtle hatching. Representatives from the U.S. Fish and Wildlife Service allowed each attendee to release a baby turtle in the sea.
"This was the coolest thing I've ever seen or done," Dylan Chennault said with a big smile. "It was amazing."
"The trip will be a lifelong memorable experience for the boys," said Dave Chennault, Scoutmaster of Troop 412 from Fountain Valley Calif. He added they will talk about it to their friends and families and they will probably come back again and bring their children.
The Boy Scouts have High Adventure Camps in New Mexico, Minnesota and Florida, and Chennault said he will suggest to the National Boy Scout Council that they consider adding St. Croix to that list.
"Scouts have a lot to offer," Chennault said. "This brings out kids that want to learn and to help communities. And has a big positive impact on all boys."
Dow says he sees leadership potential in the boys that came to St. Croix. Dow hopes people see the value in and what it can do for the children on St. Croix. He also hopes the Scouts' visit can help the movement on St. Croix. He mentioned he would like to have more troops come to St. Croix and use the camp. Adding this group was sort of like guinea pigs, he said. Dow helped organize and suggested activities for the scouts.
Bill Wibberg, scoutmaster of Troop 4 from Jefferson City Mo., and his 15-year-old son William, along with 14-year-old Will Farmer, also spent the week on St. Croix. The California group includes Scoutmaster Chennault, his son Dylan and 16-year-old Caleb Griffith, Rob Gready, a Colorado 17-year-old and Alex Wang, 14, from California, joined the other Scouts.
Saturday afternoon 25 scouts and four adults from St Thomas and St. Croix left the Henry Rohlsen Airport bound for the National Scout Jamboree at the 10,600-acre Summit Bechtel Family National Scout Reserve in Fayette County, W.V.
At the airport, Chris Brooks, scoutmaster of Troop 227 and contingency leader, had the boys all check and double check that they had their passports, declaration card and boarding passes.
Brooks says the boys are making history, going to the first jamboree to be held at the permanent camp in West Virginia. In 2010, a group of local Scouts went to the last one held at Fort A.P. Hill in Virginia in 2010, marking the 100th anniversary of the Boy Scouts of America.
"This will be a memorable time for the scouts," Brooks said. "I hope the boys bring home some awards."
St. Thomian Dyame Isles, 17, said he is excited about going because of all the action-packed adventures planned. He's looking forward to going white water rafting, doing the zip line and just having fun.
"I'm very excited about going to the jamboree," said Markus Norkaitis, a St. Thomas 14-year-old. "This is going to be a an exciting high-packed, adventure trip where we can knock out some merit badges. This is a once in a lifetime opportunity."
The jamboree runs July 15 through 24.