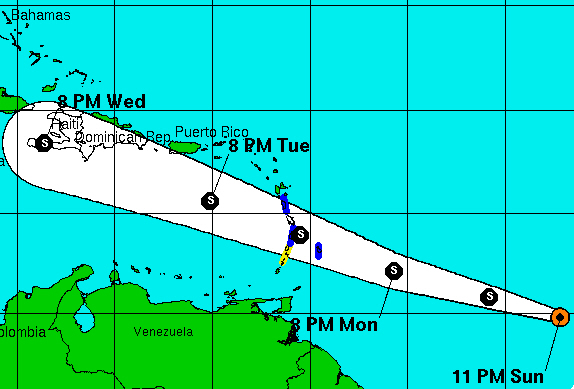 Fast-moving Tropical Storm Chantal is forecast to stay south of the territory as it traverses the Caribbean, according to the National Hurricane Center in Miami, with most of the associated rain and wind expected late Tuesday.
The third named tropical storm of the Atlantic hurricane season formed over the central Atlantic Sunday night, according to hurricane specialists Todd Kimberlain and Daniel Brown.
As of 11 p.m. AST Sunday, Chantal was about 865 miles east of Barbados, moving west-northwest at a rapid 26 mph. Maximum sustained winds were at 40 mph.
The government of Barbados issued a tropical storm warning for Barbados and Dominica and a tropical storm watch for St. Vincent.
"A strong subtropical high over the central Atlantic is expected to steer Chantal on a westward and then west-northwestward track for the next few days with little decrease in forward speed," Kimberlain and Brown reported in the NHC 11 p.m. advisory.
"Favorable environmental conditions and warm sea surface temperatures should allow Chantal to intensify some during the next few days."
A U.S. Air Force Reserve Hurricane Hunter aircraft is slated to investigate the system Monday afternoon.