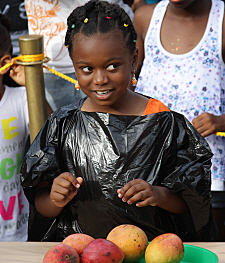 Several senators will face a potential dunking from those with a good throwing arm at the Mango Melee Sunday – along with the usual mango-eating contest, mango foods, lectures, games and samples, in the St. George Village Botanical Gardens.
"The dunk tank is new this year," Holly Herold, the garden's director of administration and development, said Monday. "We have three senators who volunteered for the dunk tank confirmed right now," she said, citing Sens. Terrence Nelson, Kenneth Gittens and Judi Buckley.
"We sent out invitations to all the St. Croix senators and Sen. Craig Barshinger, the territory-wide senator, too. So call your favorite senator and encourage them to come out too," Herold said.
The festival, in its 17th year now, celebrates not just the island's huge summer mango bounty but the many other distinctive and unusual fruits of St. Croix, the wider Caribbean and faraway Asian and African tropical climes.
But it is masses of fat green and blush ripe mangos that weigh down trees all over the island this time of the year, falling with random thumps, leaving a sweet smell and autumnal orange blotches on forested roads.
As always, there will be the Mango Dis, Mango Dat mango cooking competition. Those who cook for fun for friends and family would enter the Mango Maestro division. If the mango chef gets any income from their cooking, he or she goes into the Mango Maestro Pro division.
Each division again has four categories: Sips (drinks), Salsas (salsas and sauces), Sweets, and Stuff (main dishes, and anything that doesn't fit into one of the other categories). Need it be said, everything must feature mangos?
The mango eating contest is a perennial favorite too, with adults, then kids, stuffing themselves with a stupefying number of mangos in a frenzy of sticky orange excess.
In the Great Hall, exotic fruits from akee to wax jambu will be laid out on display all day. There will be an exotic fruit identification contest before the tropical cornucopia is auctioned off as mounds of random fruit.
The melee has grown steadily over the years to become St. Croix's most popular summer festival, with a steadily increasing number of attendees. "We expect about 4,000 this weekend," Herold said.
Nearly a hundred farmers, local businesses, craftsmen and women and purveyors of local drinks and cuisine will be on hand, she said.
Each year, the committee chooses a featured fruit. This year, the breadfruit family will take center stage, with tastings and talks, Herold said.
There will be tastes of breadfruit salad and roasted breadfruit as part of the educational program at the visitor's center Herold said. And tastes of golden apple juice and – of course – fresh mango juice.
From two to four p.m., visitors can come see workshops on breadfruit, jackfruit and breadnut production; a workshop on the nutritive values of the featured fruits, prevention and treatment of the mango seed weevil; tastings of breadfruit salad, juices made from mango, breadfruit and golden apple; and, of course, the tasting of different varieties of mango.
There will also be a display of clothing and textiles, intricately hand-sewn with beads made from seeds, by herbalist Veronica Gordon, Herold said.
Gordon will also be giving garden tours. The Ay Ay Quadrille Dancers will perform, DJ Swain and DJ SuperFly will bring the music, and there will be a raffle.
Some students will have an opportunity to obtain the featured book for their grade level from the Governor's 5th annual Summer Reading Challenge at Mango Melee.
Each year students are encouraged to fight summer learning loss by reading at least five books, answering questions on a tracking sheet and turning in the tracking sheet to receive a reward. This year each student will receive one of six specially printed books. Three of the books are by local Virgin Islands authors. Authors will be on hand to autograph copies of their books
Mango Melee is the brainchild of staff from the St. George Village Botanical Garden, the VI Department of Agriculture, and the University of the Virgin Islands Cooperative Extension Service and Agricultural Experiment Station. Seventeen years ago, these three entities came together to find ways to promote the use of the mangoes that saturate the islands yearly. The V.I. Department of Tourism also provides support.
The 16.5-acre garden is planted among the restored buildings and ruins of an 18th century sugar cane plantation.
Money raised at the gate and from the contests help keep the botanical garden open 364 days a year, maintain a botanical library and herbarium which all support its mission of the conservation, preservation, and education of the ethno-botanical heritage of the U.S. Virgin Islands.
Gates open from noon to 6 p.m. Sunday. Admission is $5 for adults and $2 for children.
For more information on Mango Melee, call 692-2874 or 692-4060.