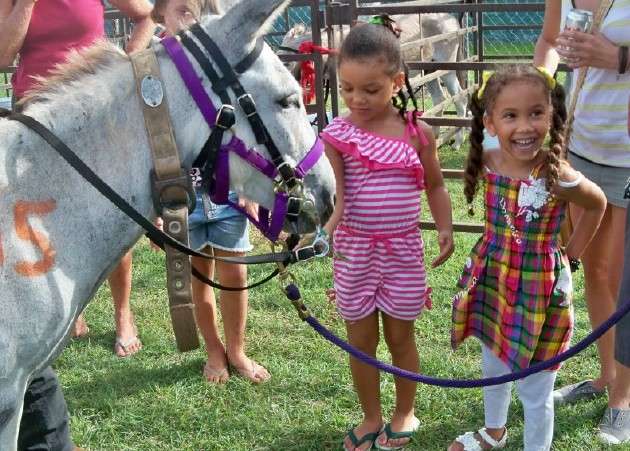 The antics of the asses – both equine and human – were on display Sunday afternoon at the Paul E. Joseph Stadium in Frederiksted, where The Gentlemen of Jones sponsored old-fashioned donkey races as the kickoff for the Emancipation celebration.
Freddie Pimentel, a Gentleman of Jones member and race announcer, said the race is a blast.
"It's a great community and family day full of fun and entertainment," Pimentel said. "This is our heritage. This is what our ancestors did for fun. They kept it simple."
Race coordinator Sue Lakos, also known as Sweet Sue, was not so sweet Sunday as she struggled to bring order out of chaos. She tried to line up stubborn donkeys that didn't know there was a starting line.
She said she heard the day she quits organizing the race is the day the Gentlemen of Jones quit holding the event.
The day's schedule included 12 races and two cart races. Dozens of young and old folks who signed a waiver rode the donkeys bareback. Some toppled off the donkeys, while others sat and prodded their steeds which just refused to move.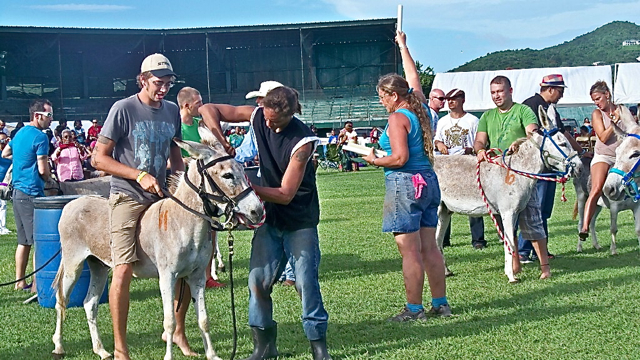 Victor Perales, 13, said it's really funny to see people fall off the donkeys.
Kent Kammermeir, visiting from Boulder, Col., said his friends egged him on to enter the cart race.
"The race was a lot of fun," Kammermeir said. "It was pretty exciting and thrilling too."
Kammermeir said he was afraid the donkey would run into the crowd that surrounded the track.
Trophies and ribbons were given to the winners.
Lakos said there are 22 donkeys in the races and nine of those are hers. She said in 2006 the Gentlemen of Jones brought donkeys over from St. John for the races. They were given to folks on farms for guard donkeys with the stipulation that they put them in the races. In return Lakos said she worms and vaccinates the donkeys. Lakos said by nature donkeys hate dogs and they run them off and raise the alarm that dogs are after flocks.
Pimentel said the threat of rain kept attendance down slightly, but the track was in good shape and not muddy. Folks sat in the shade of tents and umbrellas. The Gentlemen sold fried turkey, fresh Johnny cake, French fries, green salad , soft drinks and alcohol.
Pimentel said the proceeds from the event go toward the Christiansted town Christmas lights.