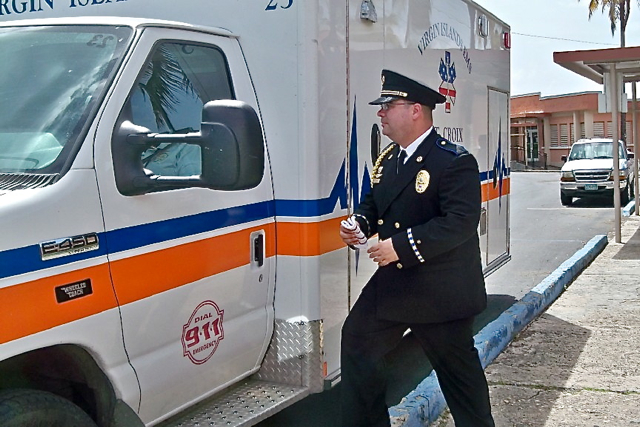 Nine members of the V.I. Emergency Medical Services Division who completed advanced courses in emergency medicine were honored Saturday at the Charles Harwood Complex.
About 70 people attended the ceremony that took place in a tent in the parking lot of the complex.
EMS Training Coordinator Jacqueline Greenidge-Payne said the National Registry of Emergency Services has set new standards and everyone in the division must meet those standards by 2017. Greenidge-Payne beamed with pride when she said the EMS division on St. Croix was way ahead, completing the training four years early.
Janice Roberts, an EMT transitioning to the paramedic level, said she and her fellow students put in a lot of hours and long sleepless nights to complete the nine-month training.
"It's exciting to be at this level," Roberts said. "I have a a lot more confidence now helping the public. I feel happy to have made it to this level."
They will be able to read EKGs and X-rays and do a lot more out in the field, Greenidge-Payne said.
The EMS Division at the Department of Health provides pre-hospital care by paramedics and emergency medical technicians. They treat those in need of urgent medical care and provide timely and appropriate transport to a hospital.
Guest speaker Vivian Ebbessen-Fludd described an emergency flight she took from St. Croix to St. Thomas in June of 1997 via Boehlke Airlines. She expressed gratitude for the care she got from the DOH Emergency Medical Services team.
"People will remember you for what you did, not what you didn't do," Ebbessen-Fludd told the honorees. " EMS is held to high expectations. Public service is a challenge."
According to Greenidge-Payne, completion of the advanced level courses includes passing a written examination from the National Registry of Emergency Medical Technicians, the non-profit, certifying agency that establishes uniform standards for training and examination of personnel in emergency ambulance service.
Nowel Garcia, crew chief advancing to a paramedic, said the training was a lengthy process and a lot of hard work.
"We had to spend additional hours studying and in training beyond our regular duty hours," Garcia said. "The goal is to be able to do more. It's a horrible feeling if your hands are tied. The ultimate goal of an EMT is to do more to save a life."
"The Department of Health is extremely proud and laud the accomplishments of these employees," Health Commissioner Darice Plaskett said. "The balancing act with their jobs and updating their skill set is indicative of their dedication and commitment to providing the community with experienced emergency medical responders."
Four of the honorees advanced from EMT-Basic graduates to the rank EMT-Intermediate. They are, Leocadio Camacho, Anne-Marie Mark Camacho, Amanda Augustin and Alvin Berkel.
Five EMT-Intermediates advanced to Nationally Registered Paramedic. They are Marlon Anthony, Robert Bryan, Nowel Garcia, Janice Roberts and Arnold Payne.