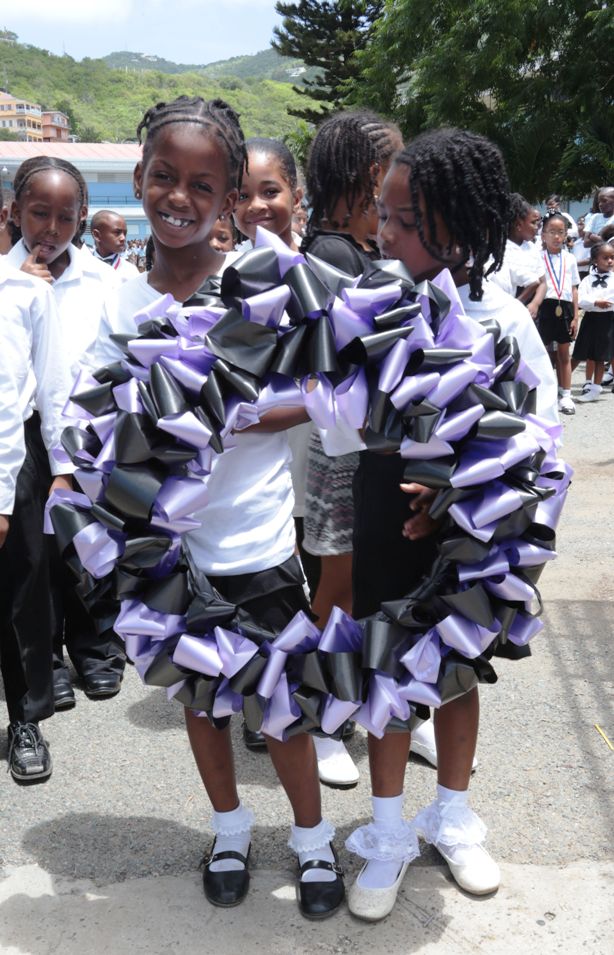 A short memorial ceremony at Ulla F. Muller Elementary paid tribute Wednesday to the school's late "matriarch," Ulla F. Muller, who died Monday at the age of 97.
Muller, who became the school's principal in the early 1950s, has been a familiar face on the elementary campus over the years, even after she ended her teaching career. The school's current principal, Symra Dee Brown, said Wednesday that the students had been able to interact with Muller frequently and even honored her last year with a "Mrs. Muller Day" ceremony that featured cultural dancing, a Maypole braiding and several student presentations.
Brown spoke to the students about Muller's passing during an end of the year presentation held at the campus Wednesday, then led all the classes, along with many of the students' parents, in a processional to the front gate.
Asking for a moment of silence, Brown asked the assembly to remember "Mrs. Muller as a person who truly cared" and to continue celebrating her legacy as an educator. The wreath was attached to the front gate, while the flags in the school's courtyard were lowered to half-mast.
The ceremony also allowed many attending to share their personal memories of Muller.
Maria Ayala, a retired teacher that still volunteers at the school, remembered teaching at the school while Muller was the principal. In those days, husbands and wives were not allowed to work on the same campus, but Muller made an exception for Ayala after learning that it would be difficult for her to commute elsewhere.
"I truly loved Mrs. Muller," Ayala said. "I loved her and I have been very sad, very sad since I heard the news of her passing."
A former Muller School student, Brown said that while Muller was principal, she was responsible for establishing the school's uniform and colors, which she said symbolized "peace."
"Everywhere we went, we would hold our fingers up for peace and that was one of my favorite traditions, which I have been able to bring back as principal," Brown said.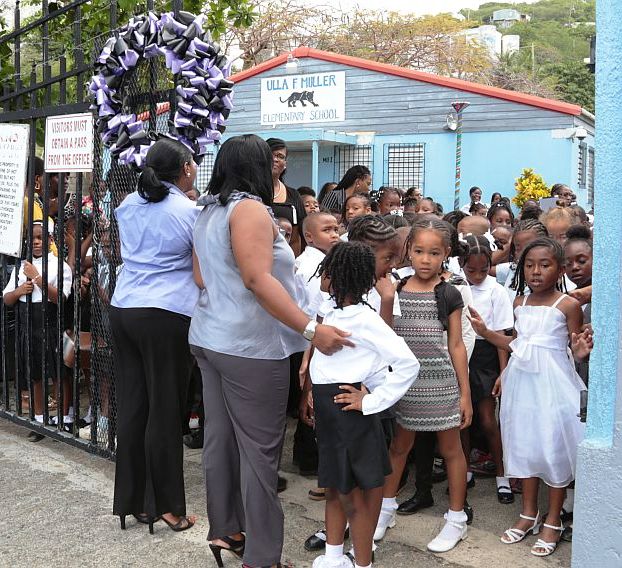 In a statement Wednesday, District Superintendent Jeanette Smith-Barry also spoke about her experiences having Muller as her principal and described her as stern but "very caring."
"Mrs. Muller certainly has been one of my earliest inspirations in my educational journey and throughout my years in the field. She has been one that I could always reflect upon with such pride and joy," Smith-Barry said. "A delightful, precious soul she was. She always had a big smile, a warm embrace and a word of encouragement for me."
"On behalf of all educators in the district and especially the Muller School family," Smith-Barry said, "we give thanks for her longevity, for her service, her love, and endless contributions to the school and to this community. The Ulla F. Muller School will continue to be a school that celebrates the excellence of this stalwart in education, Ulla F. Muller."