Mocko jumbies, the ornate masked stilt-walkers emblematic of the Virgin Islands, have been a part of V.I. and Eastern Caribbean culture since at least the 1700s, University of the Virgin Islands Professor Robert Nicholls said Friday at a V.I. Caribbean Cultural Center symposium on St. Croix.
Mocko jumbies also share many features with traditions in Senegal, Guinea, Nigeria, Mali and other parts of West Africa, Nicholls said, showing slides of V.I. and Caribbean mocko jumbies from 1900 through the present day alongside pictures of similar masked stilt-dancers from different African cultural groups and countries over the years.
Nicholls' talk was part of a day-long series of presentations from scholars, photographers, authors and other local culture-bearers, all looking at V.I. history and culture but from widely varying perspectives.
St. Croix's talks Friday were one of two scheduled symposia. A second is scheduled on the St. Thomas UVI campus on Monday from 10 a.m. to 4 p.m.
While there are records and references to mocko jumbies in the territory and various Caribbean islands dating back hundreds of years, the tradition appears to have adopted little from European culture and retains many distinctive African characteristics, despite the distance in time and space, Nicholls said.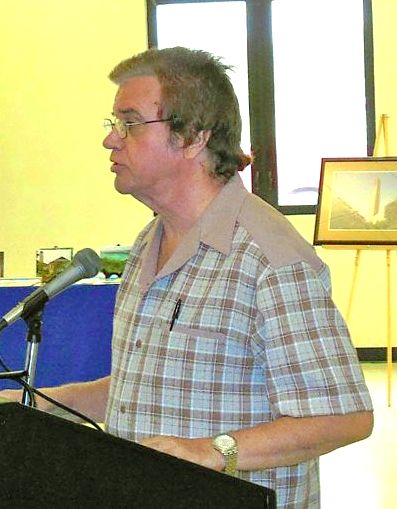 Jumbies are spirits and mocko jumbies may be, rather than a type of spirit, a tool to ward off jumbies, like an effigy or scarecrow, he said.
On St. Croix, a man named Magnus Farrell promoted the mocko jumbie tradition for decades, from the 1930s to the 1950s, Nicholls said, showing a photo of Farrell from a 1956 National Geographic article covering the U.S. Virgin Islands. Farrell's costume is a little different, but clearly very similar to what the dancers wear today.
"I'm impressed he is wearing Ethiopian colors (in his costume), which for 1956 is quite something," Nicholls said.
Farrell's son, Rudy Farrell, told Nicholls that his father "would do a series of backwards jumps to ward off spirits."
Nicholls later discussed stilt-dancing traditions in Senegal, where "they stamp their feet to keep away evil spirits, which then take refute in trees, which only the stilt dancers can reach," Nicholls said. "All of which is found in various forms in the Eastern Caribbean," he said.
The use of mirrors sewn into the fabric also echoes African traditions, where mirrors ward off evil spirits, he said.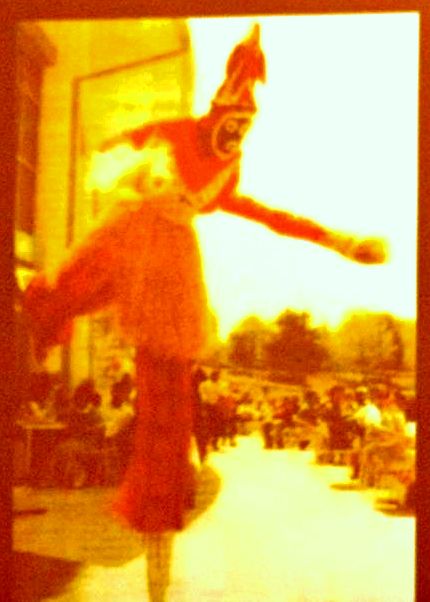 While some have speculated that "mocko" in mocko jumbie refers to their mock or sham character, like an effigy or scarecrow, Nicholls' reading suggests it may come from a defunct term for an ethnic group in Upper Guinea now called the Efik or Ibibio.
Looking at V.I. culture from a very different perspective, UVI Dean of the College of Liberal Arts and Social Sciences Simon Jones-Hendrickson talked about how globalization is both a dire threat to the continued existence of distinct cultures like that of the Virgin Islands and perhaps also offers opportunities for a place at a more diverse table.
As the world becomes more of a "global village," Jones-Hendrickson said, "diversity will be – in a sense – a footnote in history."
The loss of individual cultures would be bad for both those cultures and for the world at large, Jones-Hendrickson said.
"Beautiful minds can rise from these so called minority cultures," he said. "If our cultural traits are not practiced, in short order they will vanish and become sanitized within the dominant culture," Jones-Hendrickson said. "The central point is: Will the harbormasters of globalization let us sail our ships of culture into their harbors?"
Clarice Clarke, a public information specialist at UVI's Agricultural Extension Service, discussed and displayed high quality photographic prints of St. Croix's waterfalls, rocky beaches, historical ruins and picturesque old houses and buildings.
UVI professor, naturalist and hiking enthusiast Olasee Davis talked in more depth about St. Croix's natural resources, focusing on the archeological, historical and natural history of Maroon Ridge, Maroon Hole, Annaly, Wills and nearby parts of St. Croix. The term "Maroon Ridge" has appeared on maps of St, Croix since the 1600s and refers to runaway "marooned" slaves who took refuge in the inaccessible, treacherous hills.
Author, musician and culture-bearer Wayne "Bully" Petersen read from his new eBook "Crucian Tales: The Trials and Tribulations of Jimbo," which is available now at Amazon.com.
Several other presentations, moderated by Chenzira Davis Kahina, director of the V.I. Caribbean Culture Center, touched on many aspects of culture and society.
St. Thomians will get a chance to hear from many of the same scholars, including Jones-Hendrickson and Nicholls, at Monday's symposium.