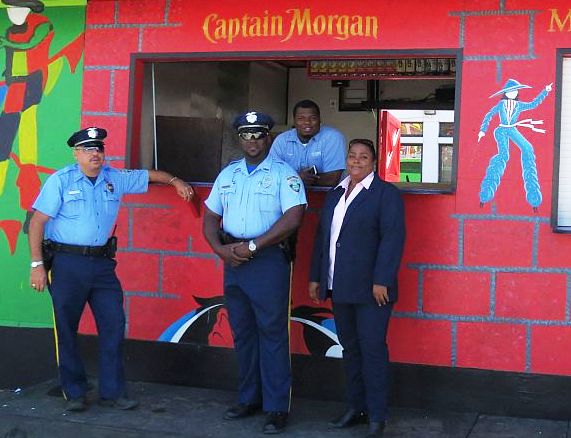 From parking restrictions to vendor permits, the V.I. Police Department's annual Carnival press conference allowed top officials and their coordinators to give out some helpful "do's and don'ts" for residents participating in or attending this year's festivities.
Residents heading to the Carnival Village this Friday, for example, should be aware that there's no smoking allowed, that they have to drink their beverages in cups instead of bottles and that there's no parking allowed in the Fort Christian parking lot, which closed down last week, according to Officer Dwayne Donovan, VIPD's Carnival coordinator. Any cars found parked in the Village will be ticketed and towed, Donovan said.
The restriction against bottles has been in place for a few years now as a safety precaution and vendors are urged to abide by the rule, Donovan said. Meanwhile officers will be stationed to the Village and residents can approach them with any complaints, incident reports or lost items, he added.
"We also have problems with parents bringing small kids into the Village and letting them run free and, from time to time, you'll hear announcements from the stage that they've found a lost child," Donovan said. "So we're asking parents to keep an eye on their kids when they bring them out – and if anyone finds a child, please go to the stage or nearest officer and they will handle it."
"We're also asking parents to put name tags on their kids because sometimes we deal with smaller children and they don't even know their names, so that will make things easier for us," he said. "We can take them to the stage and they can make an announcement and see where the parents are."
Donovan said the Village will be open from 6 p.m. to 2 a.m., and residents are encouraged to come out, have fun and frequent the many booths that have already begun to open up and serve food.
Similarly VIPD's Juvenile Bureau Commander Sgt. Aaron Krigger spoke Thursday about the need for parents, or responsible adults 18 years old and over, to accompany younger children to the Village and other events. Curfew laws prohibit minors younger than 16 to be out on the public streets after 10 p.m. unless accompanied by an adult, and Krigger said that adult should really be able to handle any crisis that may arise.
Krigger also reminded vendors that they should not be serving alcohol, knives or other paraphernalia to minors.
Two of the biggest issues during Carnival season are traffic and parking, and while VIPD's traffic commander Sgt. Roslyn Jarvis said Thursday that officers are being more lenient this year, they will still be ticketing and towing anyone obstructing or impeding traffic.
With the Fort Christian lot closed, there is limited parking downtown, so Jarvis said timed parking is not being enforced but residents are asked not to park in loading or unloading areas. Motorists also cannot block businesses, handicapped or reserved spaces or handicapped ramps leading from the street to the sidewalk. The usual parking on Main Street will be open, but anyone parking on the left side of the road will be ticketed and towed, she said.
People can park on the Waterfront apron until the parking lot re-opens, but are asked to park at least one foot away from the curb and exit to the left only, moving into the flow of traffic.
The apron will be closed for parking this Sunday for the boat races. At that time, residents driving downtown are asked to drive carefully and observe the speed limit, since there will be large numbers of people crossing the streets, Jarvis said.
On nights when Carnival events are being held downtown, motorists are allowed to park on the sidewalk leading from Norre Gade (near the former Wet Willie's) to Post Office Square – on the left side of the road only. On parade days, cars can park on both sides of roads connected to the parade route, but cannot be positioned in a way that would impede emergency vehicles from getting in and out.
Finally residents attending the annual Carnival horse races at Clinton Phipps Race Track are allowed to park on the side of the street, but their cars will be towed if they are found "partially in the roadway," Jarvis said.
"And not only are we looking out for participants going to these events, but we are also looking out for people not attending," Jarvis aid. "And we're asking those people to stay aware of the activities that are going on during the day or night and to take an alternate route since several roads will be closed on certain days – like on parade days or Food Fair."
Residents heading downtown for the annual Cultural and Food Fair are also asked to be respectful to vendors and not park in a way that blocks their booths, officers said.
Jarvis also reminded residents not to drink alcohol and drive, and said that anyone whose car is towed should head to the Richard Callwood Command at the Alexander Farrelly Criminal Justice Complex across from the Fort Christian Parking Lot for information on how to retrieve their vehicle.