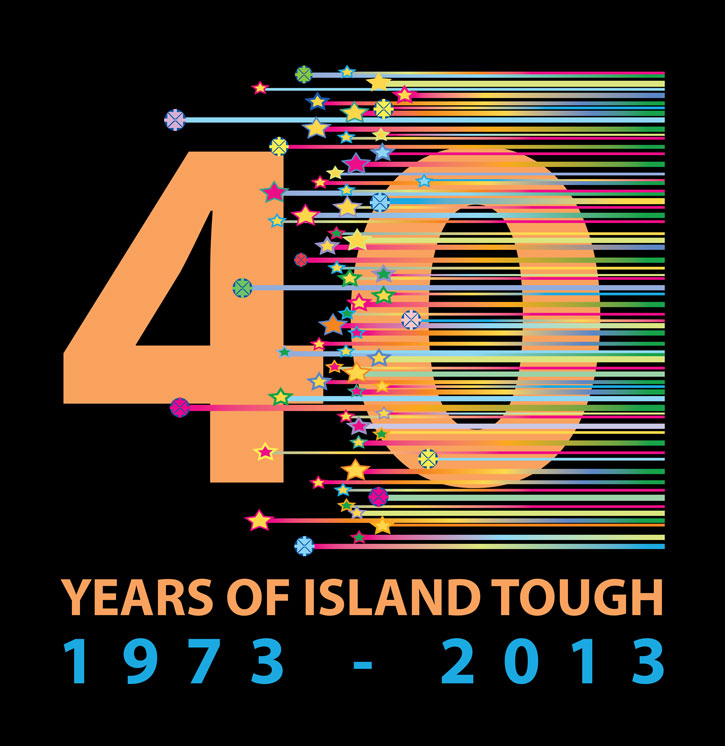 The MSI Building Supplies' 2013 Carnival T-shirt celebrates a major milestone in the company's history: 40 years of Island Tough.
"We usually design shirts that are more in keeping with the community's traditional, cultural Carnival celebration," said Tommy Brunt, MSI vice president for purchasing and sales. "But this year's focus, though festive, is on MSI and our 40 years as a small, family-owned, Virgin Islands business."
The T-shirt also breaks from the color traditionally associated with a ruby anniversary. Instead of focusing primarily on red, the shirt features bright, lively colors on a black background. The colors are symbolic of the company's vibrancy, industry leadership and bright future even during dark economic times.
An oversized orange four is prominent, while the zero is visible through a multi-colored screen of shooting stars and MSI logos on the front of the T-shirt. On the reverse, the company's logo is in orange, while the letters "MSI" appear in fuchsia, lime and yellow, respectively. The one bow to convention is the sleeve design wish for a "Happy Carnival 2013."
"We are grateful to the entire community, especially the residential and commercial contractors and builders as well as our other loyal clients who have supported MSI and helped to make MSI the leading local supplier of quality building material in the U.S. Virgin Islands," Brunt said.
Thomas Brunt III along with his wife Kris founded the company in 1973. Brunt, a builder at the time, created a market niche in response to the community's need for quality building material.
MSI subsequently developed the Island Tough brand and is best known as the territory's leading provider of building products proven and trusted to withstand the Virgin Islands' tough climate extremes.
MSI and its affiliate companies employ 41 residents. It has been actively involved in Carnival for several decades, and has produced an iconic T-shirt design each year.
The T-shirts are available in sizes children through adult XXXL at MSI for $5 while supplies last.