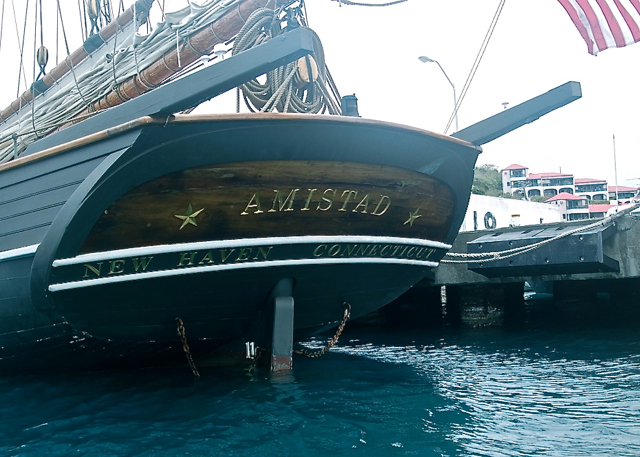 A reproduction of Amistad, the historic schooner famed for being taken over by newly enslaved Africans who then sued for freedom and repatriation to Africa, docked several days on St. Croix for repairs last week, but held no tours or demonstrations.
Opal Palmer Adisa, a St. Croix resident, poet and recent editor of the University of the Virgin Islands' journal The Caribbean Writer, noticed the vessel docked in Gallows Bay for general maintenance over the weekend. Adisa tried to get a closer look and managed to have a short chat with some crew members.
"They said they first stopped in St. Thomas and picked up a crew member, then came to St. Croix for four days of cleaning up and maintenance," Adisa said Monday. "They left (Saturday) for Puerto Rico and then Florida."
The vessel, and more particularly the court case over its 53 involuntary passengers, is widely considered a seminal event in the legal history of slavery in the U.S. because in 1841 the U.S. Supreme Court found in favor of enslaved Africans and set them free.
The story became a major motion picture in 1997: "Amistad," starring Morgan Freeman and Anthony Hopkins, with Djimon Hounsou as Cinque, the leader of the slave revolt.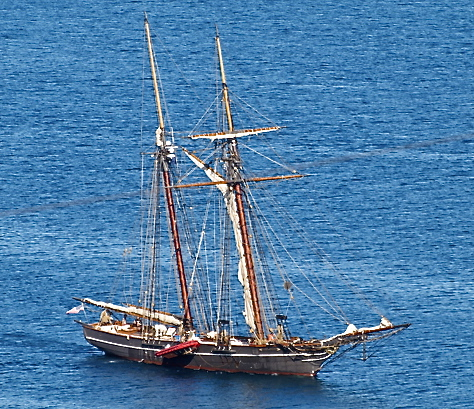 The events of Amistad are of particular poignance and relevance to St. Croix, with its own legacy of revolt and self-emancipation in 1848 – less than a decade after the Amistad incident – and its predominantly black population whose ancestral roots are in Africa.
So Adisa hoped to see the ship and crew do some educational work, give tours or have a press conference, but it was not to be. She said she approached the crew about tours, but was told they had fairly new crew members who were still training, and the ship was not quite ready for tours.
"That the Amistad stopped first in St Thomas then spent four days in St Croix, former colonial states with a history of enslavement, and yet did not open its gang plank for students and residents, would seem to belie the primary mission, which is to educate the public about slavery, abolition, civil rights and African Americans," Adisa wrote in a short exposition on the ship and its visit.
"I spoke to Mark, deck hand, and Jessica, third mate who teaches navigation; both agree tall ships are the best for educational purpose," she said. According to Adisa, Mark told her students "learn to be present as they learn about sailing; they are surrounded by nature and become aware of their own actions and experiences."
Built in 2000 under the auspices of Amistad America, a nonprofit organization, the ship and owners have had some financial difficulties. The Ocean Classroom Foundation is currently sailing the ship, along with several other wooden sailing ships, as floating classrooms, teaching a dozen students at a time traditional sailing techniques as well as the history of the vessel.
The ship has a Facebook page, which was last updated in late February. (See related links below)
According to Adisa, the replica ship and the 1997 movie both came about due to the obsession and hard work of Warren Marr II, who passed away in 2010. The ship was built between 1998 and 2000 in Mystic Seaport, Conn., largely using traditional construction techniques.
The vessel is not entirely true to the period, in that builders used computers to draw the plans, added diesel engines, bronze bolts and a lead external ballast keel, according to Adisa.
For those interested in learning more about this ship and its role in the abolition movement, Adisa suggested contacting the Amistad Research Center, Tulane University, New Orleans, Louisiana.
"Perhaps such research will lead to curiosity about the name of ships and voyages that brought all of us here to these Virgin islands," she said. "And for lovers of poetry and how poets draw from historical data to rewrite or present an omitted voice of a people, I invite them to read 'Ardency: A Chronicle of the Amistad Rebels' (Random House, 2011,) by Kevin Young."
Calls to The Ocean Classroom Foundation and Amistad America were not returned as of 6 p.m. Monday.