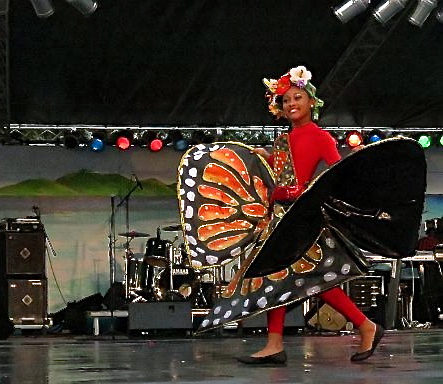 From bright tropical costumes to floor-length ball gowns sprayed with jewels, this year's Carnival Princess contestants pulled out all the stops during Sunday's competition, stunning the audience that sat in the rain and cheered for their favorites as they appeared on stage at the Lionel Roberts Stadium on St. Thomas.
The stands were packed for the event, the first of the 2013 V.I. Carnival season, while a brave set of parents and supporters sat on the field, opening and closing their colorful umbrellas as the rain came and went. Judging from teh audience response there was no clear favorite this year, as many in the audience continued to say that all the girls were equally matched in their performances.
In the end, however, it was 11-year-old LaZonique Phillip that took home the crown, along with the awards for Miss Photogenic, Miss Congeniality, Best Couture Wear and Best Talent.
Phillip, a sixth grader at Ulla F. Muller Elementary, opened the show with a bang as she came on stage during introductions dressed as a glittering orange monarch butterfly, then kept the crowd cheering as she belted out calypso during the talent segment. She was outfitted as a "cultural ambassador" aboard one of the Royal Caribbean Cruise Line ships.
The couture section was new this year, and allowed the contestants to transform their school uniforms into unique fashion pieces.
While Phillip's gold and white gown was a hit during the evening wear section, it was nine-year-old Shania Lewis who stole the show with a custom-made neon pink gown. Lewis also played the role of a "cultural ambassador" at what the announcer said was the first ever children's ball, which was meant to showcase the territory's vibrant culture through the eyes – and costumes – of its children.
Lewis, who many described as "pretty in pink," touched on aspects of the territory in her costume. The rhinestones on her dress, for example, lit up like the night sky while the sleeves of her gown were adorned with flowers that represented the flora and fauna of the Virgin Islands. Along with Best Evening Wear, Lewis – a fourth grader at Calvary Christian Academy— also took home the award for Miss Intellect, which is based on the answer each girl gives during the question and answer segment.
This year, each contestant was asked what advice they would give to a classmate who was being bullied in school but was afraid to report it.
"The advice I would give my classmate is to never be bullied into silence," Lewis said. "And never be a victim. At my school, we are taught that hands and words are not for hurting ourselves and others."
This year's third contestant, 11-year-old D'Quana Lewis, took home the award for Miss Cooperative.
Carnival events continue April 6 with the annual Carnival Queen Selection Show beginning at 8 p.m. at the Lionel Roberts Stadium.