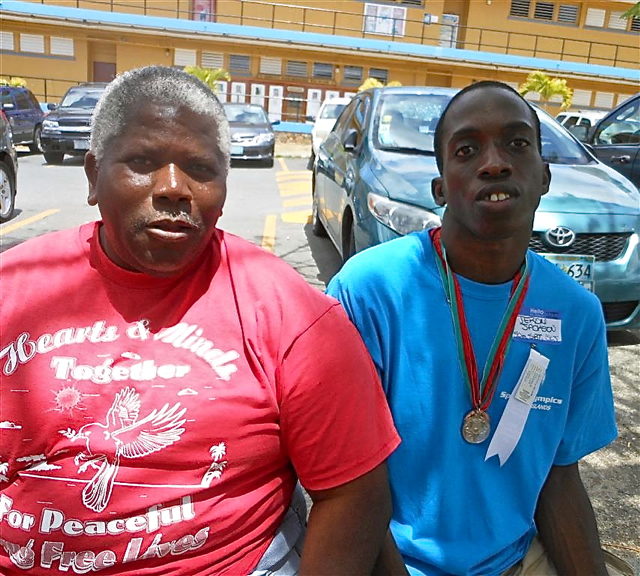 The Charlotte Amalie High track was bursting with energy as athletes for the Special Olympics bounded onto the field, greeting each other like the old pals most of them are.
It's the time of the year they get to share accomplishments, show their stuff and get a reward. Nobody goes home from these Olympics without a ribbon. Absolutely nobody.
The bright, gold-colored medals hanging from green and red striped ribbons symbolize the memories each athlete takes away.
Saturday's meet was special, as well. Normally St. Thomas and St. Croix have individual meets followed by one territorial meet. This year, with funding limited, Saturday was the territorial meet for both islands. St. Croix had its own meet earlier this month.
A crew of 25 athletes came from St. Croix to match their skills with 33 from St. Thomas. The athletes, between the ages of 13 and 25 or so, are divided into six groups, separated by age and gender.
They participated in sports ranging from tennis to basketball, bocce, softball throw, long jump and track.
Carol Mestemaker, a special education teacher at CAHS, had her hands full, shepherding her charges around the track. She volunteers each year, exhibiting the enthusiasm characteristic of all the volunteers. There always are more volunteers than athletes, which seems to work out just fine.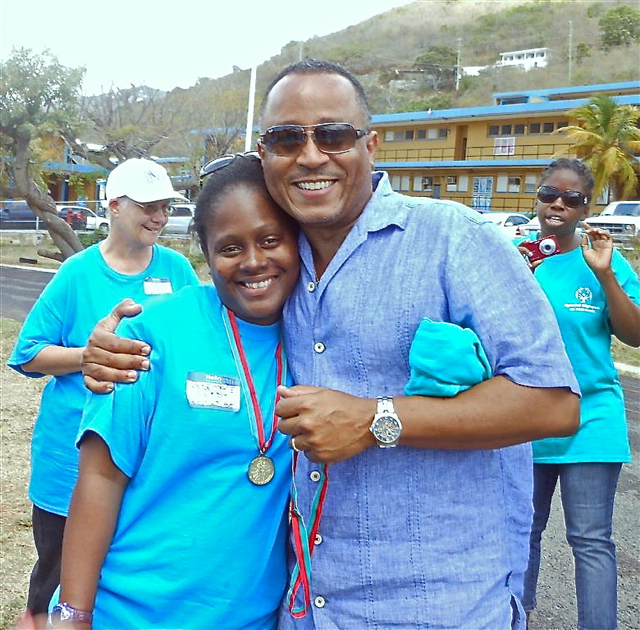 Jeron Jackson, one of the older athletes, was never far from Mestemaker's side. Jackson is a graduate of the school's special education program. Later, Jackson did his former teacher proud, earning a medal in the 100-meter dash and one in basketball.
Meet veterans Kishma Creque and Archie Jennings of the Disability Rights Center were also busy. It's takes a lot of organization and they do it gracefully, even though you never see them stop all morning, herding the kids, getting them to their individual sports. Just lining them up for awards takes work.
No meet would be complete without the dynamism and dedication of Special Olympics director Janice Lee, who has been a part of the Special Olympics since the first games held on St. Croix in 1977. She's watched countless athletes compete, many of them returning year after year, but to hear her tell it, each year is just exciting as the first time.
Encouraging the athletes Saturday were government representatives, including St. Thomas/St. John administrator Barbara Petersen, Commissioner Angel Dawson, Tourism Commissioner Beverly Nicholson-Doty, Stephanie Emelia Barnes, territorial Americans with Disabilities coordinator and acting Police Commissioner Rodney Querrard.
Actually, the government officers seemed to be having as much fun as the youngsters. It was a day to relax, or try to with all the action. They were surrounded all morning by the beaming athletes, giving out hugs, encouragement, and, most especially, posing for pictures with the young athletes as they received their awards. Smiles ruled the day.
Director Lee, while obviously taking joy from the youngsters' achievements, spoke of an issue dear to her heart: the stigma some parents associate with the event.
"One of the biggest problems we have is getting the parents involved," she said. '"They fear the stigma they think is associated with the Special Olympics."
There is, of course, no stigma involved, Lee stressed.
"The games boost morale, the kids love it, it's good for everybody," she said.
Lee said the program is trying to get the youngsters involved they are very young.
"We are going to start recruiting at Head Start," she said. "That way the parents will grow up with the kids. It's just so rewarding to see how they change in the sports. Like weight-lifting – at first, they are shy, afraid. Then they see they can do it, and you should see the change in them. Showing off, so proud of themselves."
Lee said about four fifths of the athletes are school students.
Sitting on a hillside overlooking the track, Leroy Jackson was delighted with the games, and clearly loves watching his son, Jeron, who is visiting with his dad now that he has his medals. Jackson has been in charge of his son since his wife died seven years ago.
"Now that I'm retired, he comes everywhere with me. We go shopping, visiting friends, and to the boatyard which he loves."
That would be the DPNR boatyard where Jackson worked for years. "I'm a single pop," he says proudly.
Lee said the youngsters, who went to Greece a couple years ago, are all excited now about a coming trip to California in 2015. But, for now, the inter-island competition is fine.