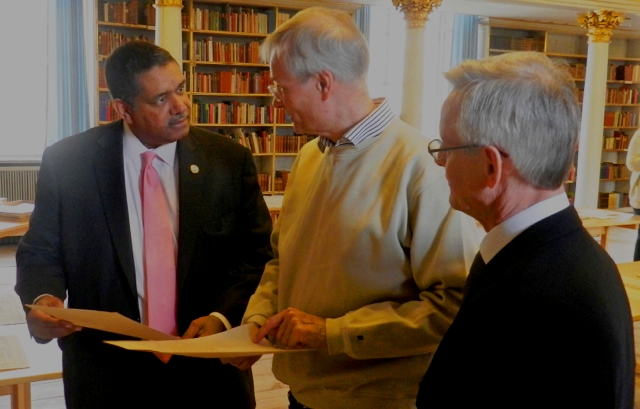 Gov. John deJongh Jr. had productive discussions with Danish business leaders while engaging the Danish government in planning for the upcoming Transfer Day centennial celebration in 2017, according to a statement released late Wednesday by Government House.
DeJongh left the territory over the weekend for the first official visit in by a Virgin Islands governor in 13 years to the nation of which the territory was once a colony. The visit serves two purposes, deJongh said: business development and establishing the foundation for the 2017 Transfer Day celebrations.
The Virgin Islands delegation includes deJongh, Tourism Commissioner Beverly Nicholson-Doty, representatives of the Economic Development Authority, the St. Croix Chamber of Commerce and a tax attorney from the D.C.-based legal counsel firm Winston & Strawn.
Wednesday night they attended a dinner hosted by the Danish Ministry of Foreign Affairs.
Earlier in the week, deJongh held talks with officials of Danish State Archives, the Danish Museum, and the Ministry of Foreign Affairs to discuss the ongoing project to digitize V.I. archives and make them available to the Virgin Islands.
Nicholson-Doty held meetings with members of the Danish press and tourism firms, including Bravo Charters, to promote travel to the Virgin Islands. The territory's business representatives established relationships through the Danish Business Forum, and have been meeting with the leaders of several companies looking to do business in North America and interested in the benefits of locating their operations in the Virgin Islands, according to the Government House statement.
On Thursday, the governor was scheduled to host a business forum at the U.S. Embassy, where Danish firms will have the chance to learn more about the benefits of the territory as a base for North American operations.
"Denmark has a number of small and medium-sized businesses beginning to look at U.S. and Canadian markets," deJongh said. "The 2017 Transfer Day focus gives us a competitive advantage in building on that relationship."
The governor reported the Danish government has established a steering committee to coordinate their involvement with the Transfer Day 2017 ceremonies.
"What's important in Denmark is that there is the same sort of commitment, and I was able to establish that there is," deJongh said of the upcoming centennial.
The U.S. Virgin Islands representatives are also using the opportunity of visiting Denmark to gain knowledge from a world leader in alternative and renewable energy, waste management and climate research, according to the statement from Government House.
"This week, throughout our meetings and travels here in Denmark, we are seeing encouraging signs as we continue our efforts to lure businesses, promote tourism, and plan a truly memorable and historic Transfer Day centennial celebration," deJongh said.