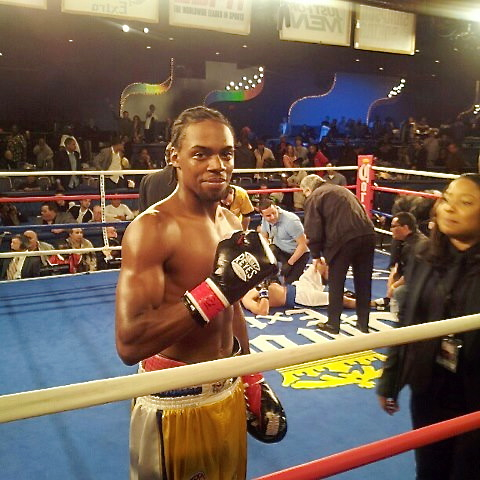 With one in stiches and the other pretty much unscathed, 340 Boxing champs John Jackson and Samuel Rogers returned home showing off their recent Atlantic City wins in very different ways.
Jackson and Rogers, who were met by fans at the Cyril E. King Airport Sunday, were both featured Friday on ESPN2's popular "Friday Night Fights" card, which had them under the big lights at the Resorts Hotel and Casino with the sports network's very own Teddy Atlas commeting nearby. Coming in, Rogers (now 13-0 with 7 KOs) sought to maintain his undefeated record, while Jackson was looking to best his quick first-round win in December 2012 over opponent Alex Hernandez.
Both goals were quickly met.
Up first in the ring, Rogers dominated in six rounds against opponent Ivan Ziglar (7-3-1,) whose fast mouth outside the ring did not appear to make up for his inexperience inside. Ziglar's record boasts only a handful of fights in the past three years, while Rogers recently improved his record with a win against Jose Vidal Soto out of the Dominican Republic and had made up for any time off with additional training on the mainland.
Rogers won the fight against Ziglar Friday by unanimous decision (59-55, 60-54, 58-56).
"One thing about fighting, you always get to take the time and look back on your performance before moving onto the next opponent," Rogers said after touching back down on St. Thomas Sunday. "I had a little mental thing with this guy – he was a little cocky at the press conference, a lot of talk, so I felt like it was up to me to go in there and dominate, and I think that got the best of me. Instead of being calm and cool, I let my emotions throw me off, but I realized that in the middle of the fight and I stepped back and tried to do things differently."
Rogers and Ziglar butted heads in the second round, leaving Rogers with cuts to the side of the face and Ziglar with a gash to the hairline – an injury that was hard to tame throughout the fight as Ziglar repeatedly tried to make his move.
"I realized after that he could take a punch, he had a good chin," Rogers said. "But you can't knock every opponent out, so I said, 'Let me just go with Plan B and win the fight.'"
Rogers' fight was televised on ESPN2, and 340 Boxing managers hoped an early knockout would allow Jackson's to air as well.
It didn't, but word still spread quickly over the Internet about Jackson's "frightening" first-round knockout, which left opponent Francisco Alexis Pena unconscious for at least five minutes.
"It was a great fight," Jackson said Sunday. "I knew this guy was going to be tough, so I went in there with a game plan to box and if the opportunity comes, to take it. I felt him out at first, he had a good defense, so I came in with a strong jab and caught him with a couple of right hands so that he was back against the ropes. I hit him with a jab, and he came forward, so I hit him with an uppercut and he was out from there."
Jackson's KO came just 56 seconds into the first round, which according to the sports blogs, left the audience "stunned."
"The crowd loved it," Jackson said. "It was really a great night for the Virgin Islands – it was a great fight, it was a great showing and the amount of people that showed up there from the territory was a real blessing."
Coming home Sunday, both Rogers and Jackson spoke about the possibility of fighting on ESPN again next month, though nothing has been confirmed yet. Meanwhile, they will both be heading back to the gym for training while the territory's third professional boxer, Julius Jackson, prepares to head out Thursday for Panama, where he will fight Saturday at the Hard Rock Hotel and Casino.