Revitalization work in downtown Charlotte Amalie will begin in a week because the federal grant deadline is looming and the Federal Emergency Management Authority turned down the territory's request to push it back, Government House announce Tuesday evening.
The work comes at a somewhat inconvenient time in the midst of tourist season and entails reconstruction of downtown infrastructure and telecommunications lines, as well as roadway and sidewalk work along Main Street.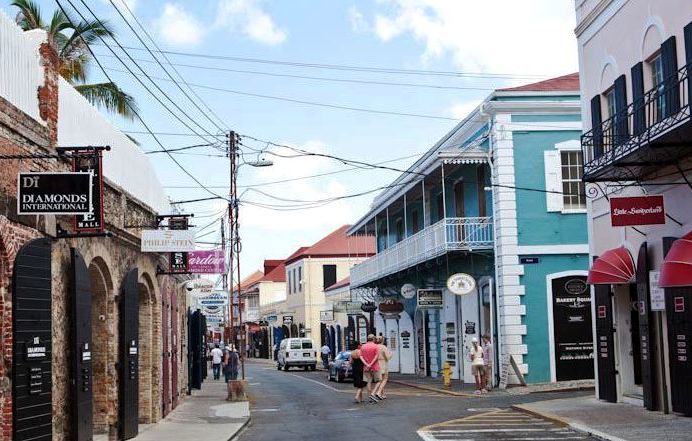 The part of the revitalization work to begin next week involves the V.I. Water and Power Authority's project to bury electric lines. That work is projected to cost of $2.1 million of which $1.6 million is funded by a FEMA grant authorized in 2008.
After WAPA officials agreed pushing back the timeline to avoid the tourist season would help lessen its negative impact on business, Gov. John deJongh Jr. asked FEMA for an extension in January.
But FEMA said no and that all work must be completed by June, according to deJongh and WAPA spokeswoman Cassandra Dunn.
DeJongh, WAPA and Public Works officials met with downtown merchants Tuesday afternoon to tell them about the upcoming work.
"While we are cognizant that the funding was made available in 2008 and the monies have a five-year shelf life, Public Works Commissioner Darryl Smalls, Water and Power Authority Executive Director Hugo V. Hodge Jr. and I wrote to FEMA's Caribbean Area Division seeking the extension to minimize the impact on Main Street and the surrounding shopping area," deJongh said in a statement.
"FEMA did not approve my request and advised the government that the monies would expire on June 30 whether the funds were obligated or not. This means that we must initiate the project so as to meet the deadlines and not lose the investment," deJongh said.
Reached at home Tuesday night, Dunn hastened to emphasize that WAPA did not allow the project to languish, but had done extensive work to get to this point.
"We were meeting with property owners, obtaining easements and talking with the Historic Society," Dunn said. The scope of work had to be revised repeatedly. "When we first submitted for the federal grant, we proposed a larger project, which FEMA rejected. So we had to redesign the project then, and again later on," she said.
Switches had to be redesigned and equipment was held back by shipping delays, she said.
"So during the course of five years there has been a lot of preparatory work going on," she said. "But we were still looking for the extension in the hopes that Public Works and WAPA could piggy back and not open the same area twice. But FEMA thought otherwise. And we certainly don't want to turn back any money. These monies are needed and the end product will be an improvement in service reliability for that portion of St. Thomas. So we will try to make it as convenient as possible."