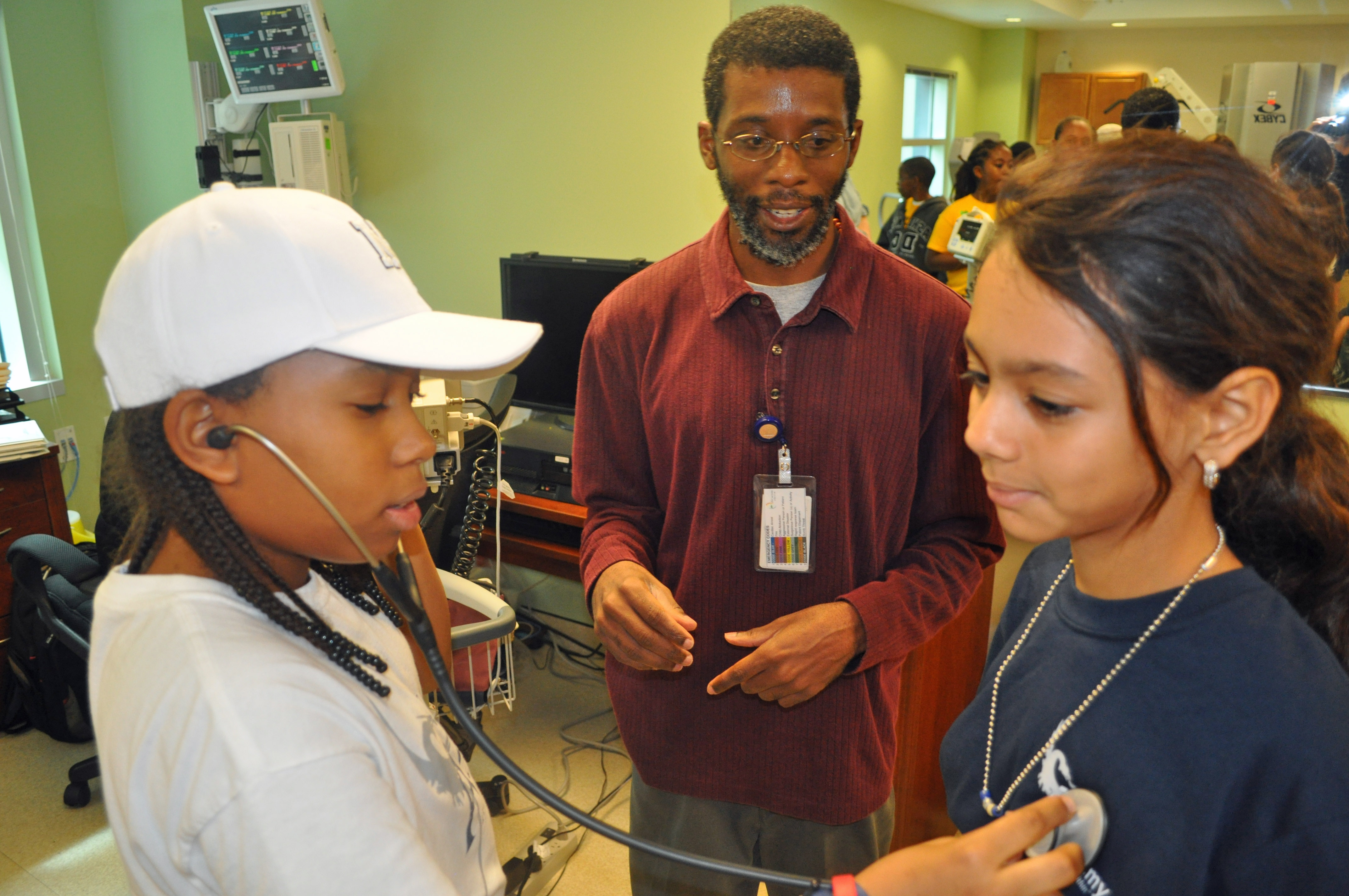 Fifth and sixth graders from 15 schools toured Gov. Juan F. Luis Hospital Friday as part of the medical center's second annual student health day.
With different organizations partnering with JFL to put on the event for more than 200 students, the day consisted of learning about the heart, the hospital and healthy habits in general.
Xaulanda Simmonds-Emmanuel, JFL's head of communications and community, said the event was so popular last year that it only made sense to expand on it this year.
"We have such a soft spot for kids," she said. "And ultimately we want a healthier community."
For this year's session, students were divided into groups and then rotated through eight different stations of the hospital that taught them about a particular topic or part of the hospital.
When the kids arrived at the healthy snacks station, they were treated to a nutritious treat courtesy of some of JFL's dieticians, who had included something from various food groups.
JFL dietician Emily Rogers, who participated last year, said she tried to get students to understand not only what foods were healthy, but why they were healthy.
"I think it's a great event. They get a day off of school to come here and learn about the heart, nutrition, and that's not something that they get too much in school so we try to drive home a few key messages," Rogers said.
During one session she drove home the point that protein was good for muscles, the heart included, because it provided strength. The lesson worked, especially on Good Shepherd fifth graders Kendell Gittenspigott, Jedell Keithroy-Alphanzo Titus and Christopher Samuel. All were quite excited about the nutritious snack they'd just eaten that consisted of peanut butter, honey, bananas, craisins, a wheat muffin and flax seeds.
"If it's nutritious I'll eat it," Gittenspigott said excitedly.
His classmates agreed.
When students reached the final station, the JFL Journey of Ancillary Areas, it allowed them to walk through the hospital's pharmacy, laboratory and imaging center. Inside the lab they even got to witness some human organs taken from biopsies that were stored in formaldehyde. Simmonds-Emmanuel said the purpose of this station was to allow students to see what goes on behind the scenes.
"The kids are getting exposure to health care careers other than just being a doctor or nurse," she said.
Along with Luzzy's Foundation, the V.I. Council on the Arts was one of the repeat sponsors from last year's inaugural event. Their station this year was titled, "The He-ART station." There, students received a take-home activity and the keepsake they designed and made – a lower chamber of the heart – which allowed them to showcase their knowledge and creativity.
V.I. Council on the Arts Spokesman Al Haynes said he thought it was a superb idea to combine the arts and health.
"I feel the two go hand in hand because you got to feel good inside to feel good outside," Haynes said.
Despite the amount of effort to put on the event, Simmonds-Emmanuel said the staff had a blast participating and said they'd certainly do it again next year.
"When you involve kids in health care they get excited. They go home, talk to their parents and siblings about it, and hopefully if you educate the kids early, they'll grow into healthier adults and ultimately make a healthier community," she said.