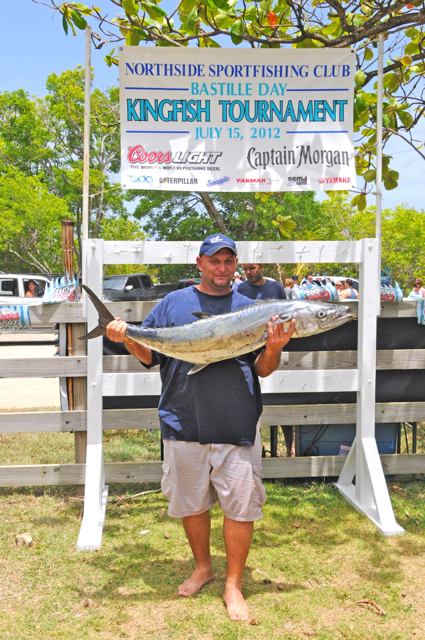 St. Thomas angler Vince Bryan was in the right place art the right time and caught the right fish to win Sunday's 24th annual Bastille Day Kingfish Tournament.
When the official weigh-in was complete at Hull Bay Hideaway it was Bryan who had reeled in the largest kingfish, a 34.43 pounder, aboard the Bayliner 24, Absolutely.
Bryan was one of 228 anglers, including 41 junior anglers, on 60 boats, who took part in the tournament sponsored by Bellows International Ltd. More than $10,000 was awarded in cash and prizes this year.
"Our first plan was to head to Sail Rock. Then, there was so much wind, I told my dad we should head over to Cricket Cay and we did," said Bryan setting the scene as any angler would when spinning a fishing story. "It was 6 a.m., just getting light, when we put all four lines in the water and hooked up on three of them. The seas were so rough that the lines at first got tangled. We lost one kingfish, and then reeled in the smaller one until there was nothing left except my line. Every time I'd get the fish up to the back of the boat he would head straight back down. It finally took me three tries before I reeled him in. I knew right away that it was a prize fish, but not necessarily the largest kingfish."
In 2010 Bryan had won the award for the largest mackerel. For bringing in this year's largest kingfish, Bryan pocketed $2,000 in cash, sponsored by NEMWIL, managed in the USVI by Red Hook Agencies, Inc. and providing homeowners and business insurance in the USVI.
The second largest kingfish prize went to Dale Brin, aboard We Be Fishin, who caught a 23.91-pounder and won $1,000 in cash. Mark Quetel, fishing aboard Miss Andrea, reeled in a 21.41-pounder to win the third largest kingfish cash prize of $850.
With 13 fish weighing a total of 37.90 pounds caught total, Capt. Mark Steihler aboard Double Header won the Best Boat award of $1,000. The catch of four kingfish totalling 21.11 pounds earned Capt. Shawn Berry, aboard Kingingaling, the Best Captain award and $1,000.
Other winners were:
— Dale Brin's, total of 104.56-pounds of fish, aboard We Be Fishin, earned him best male angler and a $750 cash prize.
— Stephanie King, aboard World Class Anglers, who reeled in 53.13-pounds of fish to pick up the best female angler award and a $750 cash prize.
— Best junior male prize of $250 went to Nathan Gatcliffe, who caught 44.05 pounds of fish aboard, Double Header IV.
— Chelsea Aubain won best junior female prize, $250, with the catch of 30.37 pounds of fish, aboard Lady Marie.
Although the tournament is focused around kingfish, other species earned anglers $375 cash each courtesy of TOPA Insurance Services, Inc. Christopher Bryan caught the largest jack, a 10.39-pounder, from aboard Feel Good. Mark Quetel reeled in the largest barracuda, a 20.71 pounder from aboard Miss Andrea. The largest bonito was caught aboard Livin Rich by Jasmine Bryan and it weighed 4.36-pounds. Finally, Mark Quetel reeled in the largest mackerel, a 6.53 pounder, from aboard Miss Andrea.
Winners also received overnight stays at local hotels, dinners for two, and a variety of luxury gifts and excursions all generously donated by the Virgin Islands' business community.
Judges Herman Richardson and Kevin LaPlace, Sr., officially weighed the catches.
After weigh-in, the fun continued onshore at Hull Bay Hideaway. Cool Session Brass entertained throughout the afternoon. Later, crowds gathered inside Hull Bay Hideaway for the 8 p.m. awards ceremony, where the band C4 played.
All 41 registered junior anglers were eligible for a special "Catch In The Hat" award. In this award, sponsored by Red Hook Agencies, eight names of registered junior anglers are randomly drawn from a hat and $50 cash is awarded with the 9th name selected receiving $100.
Each year, the Northside Sportfishing Club makes donations to community organizations and individuals. This year's beneficiaries were The Joseph Sibilly School, St. Thomas Rescue and Nana Baby Children's Home. The Club also awarded $5,000 in college scholarships to five recipients: Christina Bryan, Amanda Ledee, Britteny Petersen, Alexander Querrard and Gabrielle Querrard.
Editor's note: An earlier version of this story gave the wrong name of one participating boat. The erroneous information was supplied by the event organizer. Stephanie King won the best female angelr award on board World Class Anglers. The Source regrets the error.