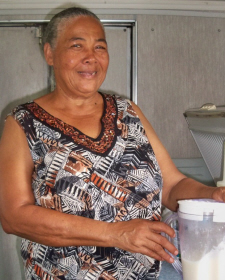 Sylvia Dorcas Griffin's passion for horticulture grew from her simply sticking a broken breadfruit tree branch in the dirt. It took root and bore fruit.
That was more than 30 years ago and since then she has earned numerous trophies and awards at the Agricultural Fair and other events for her fruit trees, herbs and ornamentals.
Griffin says she has more than 15 trophies and in 2010 she was chosen first place and Grand Champion in the Agricultural Fair Farmer's Market Commercial Horticulture division. She was recently given an award by University of the Virgin Islands President David Hall, for her contributions to the UVI Cooperative Extension Services.
Griffin says she is honored and thankful to receive awards but she doesn't grow plants for the recognition. "I love plants and I just want them to look good and grow," Griffin says. "I love plants so much it doesn't seem like work to grow them."
The plants are grown on an acre of land in Estate Whim at her nursery called Dorcas Griffin's Nursery.
Griffin says she is into growing unusual plants and she looks for unique plants in Puerto Rico and in her travels to the States. "I love plants that are different," Griffin says. "I want new things that no one else has. The unusual plants are popular here and they sell."
Ferns are Griffin's favorite plants. "I like their lacy leaves and the color of them," Griffin says. She grows lady slippers, orchids, cactus, African violets, begonias and much more in hanging pots and small individual pots. She says she enjoys growing orchids too. She has all types of local fruit trees and herbs too numerous to mention.
"Gardening is a challenge especially right now since it is hot and dry," Griffin says. "I have to water day and night." She says she has to check for bugs often and make sure they are under control right away.
Griffin says she loves mornings in her garden where she can relax and be alone and not deal with anything. "Gardening brings me peace of mind," Griffin says. "It is where I do communion with the Lord. I pray and sometimes cry there."
She says she looks at a beautiful hibiscus flower in red, yellow or white that came from a plain brown and green plant and she feels there is something higher than us. Griffin, 65, says she will garden as long as she is able to.
Griffin recommends gardening for everyone because it is enjoyable and it is important for the community. "I love gardening so much if I had a choice I would do it again," Griffin says.
Griffin also prepares and sells fruit smoothies daily out of a large white food vendor's truck at the La Reine vegetable market. She has been selling smoothies at local food fairs and events for 13 years.
Griffin moved to St. Croix from St. Vincent in 1969. She came to visit her brothers and loved the island so much she decided to move to St. Croix. She also met and married Vincent Griffin that same year. "I came to St. Croix and met a nice man," Griffin says.
Griffin has five daughters and five sons and 13 grandchildren. Sometimes family members help her at the fair and such.
She sells plants at the vegetable market in La Reine and at events such as Mango Melee and the fair. The nursery is located at 27B Whim. For hours or to make an appointment, call 772-0942.