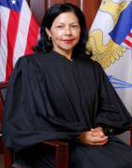 In a recent precedent-setting decision, the V.I. Supreme Court overturned a $125,000 jury award against a man who was sued for breaking up another man's marriage, ruling the common law principle cited at trial did not apply, was antiquated and out of step with most U.S. jurisdictions.
In 2009, a jury awarded Dermont Herman $125,000 from Matthias Matthew in relation to Herman's divorce from his wife, Francisca Herman. The jury awarded Herman $75,000 for alienation of affection, a cause for legal action or "tort" in common law, meaning a person who intentionally causes someone's spouse to lose affection. And another $50,000 for criminal conversation, another common law tort which makes the third person liable for the sexual relations.
Justice Maria Cabret wrote the May 15 opinion, ruling the lower court erred in relying upon The Second Restatement of Torts, a kind of legal treatise describing the state of common law in the United States. These restatements of law are non-binding in themselves, but describe the legal community's consensus on common law across jurisdictions, and is incorporated into law as it is cited by courts in deciding cases or cited in legislation.
While some parts of these restatements have been cited in court decisions, Cabret wrote the Supreme Court's research "has not disclosed a single opinion written in the Virgin Islands to ever cite" the particular common law principles cited in Superior Court.
Furthermore, the torts of alienation of affection and criminal conversation have been
abolished in the vast majority of American jurisdictions, Cabret said, suggesting that, while these romantic grounds for lawsuits (amatory torts) have roots in legal history, they do not reflect the current state of the courts, society and common law.
"The reasons given for abolishing the amatory torts differ from jurisdiction to jurisdiction, but generally the emphasized concerns are (1) the torts were originally founded on the idea that wives were property of their husbands, (2) the torts have destructive results on existing marriages, and (3) the courts are unable to adequately valuate and address the harms caused by adulterous behavior," Cabret wrote.
On those same grounds, the court vacated the Superior Court's verdict, remanding the case back to the lower court with instructions to dismiss the complaint.