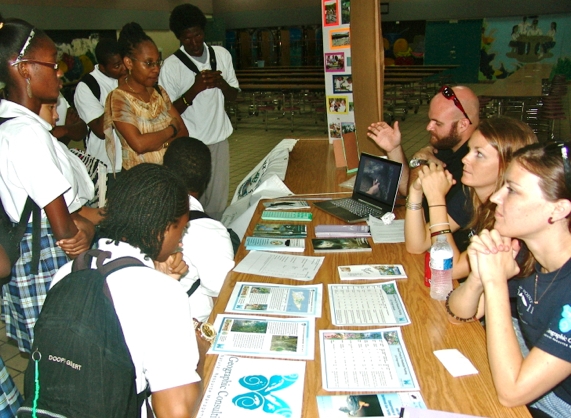 Science doesn't have to be dull, as more than 100 students learned Wednesday at the St. Croix Educational Complex. Not when you can make the beach your office.
"There are so many things we can do with what's in our own backyard," said Jonathan Buckney-Small of the Coastal Zone Management Program. "You know, people spend a lot of money to come here. What's one of the best things we have? The beach. With these kids it kind of opens their eyes when I tell them that the beach is my office."
Buckney-Small was part of a group of science educators showing Complex students just how wide open their futures might be if they set their sights on a future in science, engineering, technology or other technical fields.
"I thought it would be boring, but it was cool," said freshman Satchell Francis, after she and her friend Da'Jah Francis listened to a spirited presentation on the backgrounds they would need and the benefits they could experience working as interpretive rangers at the St. Croix East End Marine Park.
Neither of the girls said they had decided to aim for careers in marine science, and that's OK because they're freshmen, they have plenty of time. But for the first time, they are considering the possibility, and that's the point, said Lynnea Roberts of the St. Croix Environmental Association, one of the organizers of the event.
"This was something we'd been thinking about in VINE (the Virgin Islands Network of Environmental Educators) and we just decided, 'Let's go ahead and do it," Roberts said. Two thirds of the way through the three hour event, Roberts said all the participants were very pleased.
"Everybody's feeling really good about it," she said. "We've talked to a lot of students, and they've been really receptive."
Participating agencies and companies included Geographic Consulting, the National Park Service, Seven Seas Water Corporation, the U.S. Fish and Wildlife Service National Wildlife Refuge System, V.I. Waste Management Authority, the Nature Conservancy and six offices of the Department of Planning and Natural Resources – Coastal Zone Management, St. Croix East End Marine Park, the water pollution program, air pollution control, solid waste and the State Historic Preservation Office.
Akima Williams and Maria Arroyo, who represented DPNR's air pollution control office, were able to make instant connections with the students – they had once been Complex students themselves.
Though separated by three years, they had remarkably similar backgrounds. Both had been part of the school's magnet program for math and science students, had decided to pursue that as a career, and took part in the University of the Virgin Island's 3/2 program, where they did three years of study at UVI, then two years at a stateside university – Arroyo at Washington University in St. Louis and Williams at the University of Florida. Then both came back to the islands to serve their home communities.
They encouraged the students they talked to not to settle, and not to chase dollars, but to find something they are driven to do. Find something you love to do, because you're going to be doing it for the next 40 or so years, they said.
"Do different things and see what you enjoy the most," Williams said. "If you love what you're doing, if you're passionate about it, it helps you stay young and excited."
Another advantage to jobs in the fields of environmental sciences was evident at the Geographic Consulting table, where Justin Whisante, Liz Zimmer and Molly Clifford were talking to students. None of them are from the Caribbean, they said, but their education has made it possible for them to work almost anywhere in the world.
At the Fish and Wildlife table, Jen Travis wasn't just extolling the virtues of working in marine science; she was offering kids a chance to do it. Travis has set up a summer High School Career Experience program with five positions available for students. During Wednesday' event, she had given away 50 applications. The five lucky applicants will work at Sandy Point helping with the endangered turtle program.