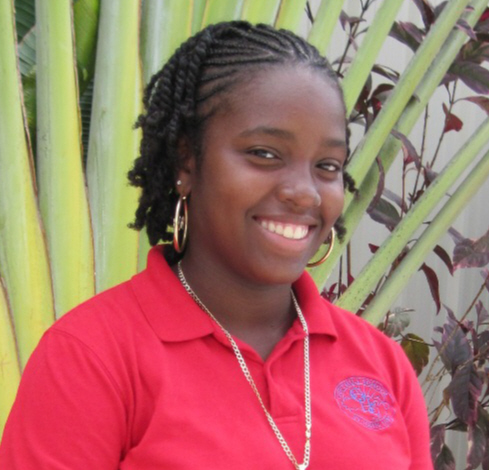 Viniqua David wants to be a criminal lawyer, but in the meantime what's on the 15-year-old's mind is not torts but hoops.
David was heading off to St. Croix earlier this week for the 14th annual Sun Stroke All Virgin Islands Hoop Classic, one of 10 young women picked to play on the St. Thomas All Stars team and the only one from Gifft Hill School.
"I like to travel and play with new players," she said, adding that she plays all positions.
Rashidi Clenance, president of Sun Stroke Promotions, called David a solid performer. He said he was impressed that David was on the all star team at so young an age.
"Hopefully this will show her how talented she is. At that young, she can make some improvements to her game," he said.
She plays on the Gifft Hill team and said she's been on several all star teams. And she's done community service work at Gifft Hill by teaching younger students how to play basketball.
David, who lives in Bovoni, St. Thomas, is also a member of the Sebastien Majorettes.
"I like exercising and I like having fun," she said.
She also holds down an afterschool job at St. John Properties real estate company, where she does filing, answers the phone and other office chores.
As if that wasn't enough to keep her busy, she said she also does video production and is something of a rapper. "I have a couple of songs out," she said.
It's a busy day for one of the six Gifft Hill students who commute from St. Thomas. She's up at 6 a.m., on the 7:30 a.m. ferry and then catches the school bus in time for the 8:15 a.m. start of school.
A Gifft Hill student since the eighth grade, she attended Bertha C. Boschulte School on St. Thomas before that. She said she likes Gifft Hill School because the faculty and staff treat her like family.
Gifft Hill's head of school, Judy Chamberlain, had good words to say about David.
"She's tough on herself and she's resilient. That combination will see you through almost any challenge life presents," Chamberlain said.
She added that David is a good student and has a great work ethic.
When she's not at school or involved in other activities, she spends time with her family. Her mother is Natisha Richardson. Her siblings include Vascott David, 17, Vequan David, 13, Alisha Richardson, 12, Alasha Richardson, 10, Aquani Cornwall, 6, Joquan Nicholas, 3, Jovann Nicholas, 2, and newborn Jocoy Nicholas.
"She's a good example for her brothers and sisters," said her grandmother, Marcella Richardson.