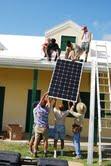 Always prepared, St. Croix's Boy Scouts recently helped install an 11 kilowatt solar panel at the Howard M. Wall Scout Camp along the south shore near Great Pond Bay, putting the camp and the island's Boy Scouts on the forefront of the territory's alternative energy efforts.
Boy Scouts of America V.I. Council President Stuart Lewis said in a statement that the project "is an opportunity not only for significant energy savings of 50-80 percent through solar energy on the South Shore Campus, but a project that lends itself to the learning of Scouts and the entire community on the benefits of alternative energies."
The new system is generating 62 kilowatt/hours per day, which could save as much as $130,000 over 20 years, according to a statement from the V.I. Council. That equates to roughly $6,500 in savings per year.
The system was funded by a grant from the V.I. Energy Office.
Over the past five years, the V.I. Boy Scouts Council says it has taken dramatic steps to create the community as a top-rate recreation center for use by Scouts and the general public. Its goals are to realize energy savings and improve community impact with environmental stewardship, the statement said.
The V.I. Council of Boy Scouts of America was established in 1964..