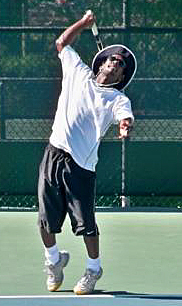 The Women's Coalition of St. Croix, serving the community for decades through hotlines, counseling, emergency shelter, tutoring and more, will hold its 20th Annual Tennis Classic April l1-15. Players can sign up for competition until 6 p.m Monday, and help out a worthy cause while having some fun and exercise outdoors.
With layoffs in both the public and private sectors, and lots of economic worries, donations are both harder to come by and more urgently needed than ever, said Andrea Stancliffe of the Women's Coalition Friday.
Since 1981, the Women's Coalition has been there for victims of domestic abuse, helping countless families to improve their situations and to begin to heal and recover from trauma.
"We offer free counseling and advocacy to women, men and children and we are open 24/7," Stancliffe said Friday. They run a 24-hour hotline at 773-9272. But they also have a children's center and an after-school program where kids can come for tutoring, a high school diploma program, where adults and children who have dropped out can come and get their diplomas.
They run Sojourner House shelter for battered women and children too. "We are also running a federal transitional housing program for women and children who are in need or facing some type of abuse," Stancliffe said. "It can be up to six months or a year and we also teach them life skills courses so they can be self-sufficient when they leave."
But fate has been unkind to the Women's Coalition this year, with financial blows coming from every direction, stretching its capacity. A fire devastated their crisis center in Christiansted in August 2011. Vandals stole copper wire from their new shelter, and there was flood damage.
"On top of that, there was the loss of government funding this year, but despite all of that our doors remain open and we continue to offer our free programs to the community," Stancliffe said. But with the loss of their major federal grant, the Women's Coalition needs to focus efforts on fundraising, she said.
Competition takes place at the Buccaneer hotel starting Wednesday. The Buccaneer has been a long-time sponsor of the event, helping out with its facilities and donations for many years, Stancliffe said.
The entrance fee is $40 for one event and $45 for two. "We haven't raised our prices, and we have great trophies for all the finalists and the winners," she said. On April 13, there will be a cocktail party in honor of all the sponsors and on April 15, the awards ceremony will be held at the Buccaneer's Mermaid Restaurant, she said.
To sign up, call Don deWilde at 773-3036. For more information, contact Andrea Stancliffe at 277-4740 or 904-626-6843, or contact Mary Mingus at 643-9272.