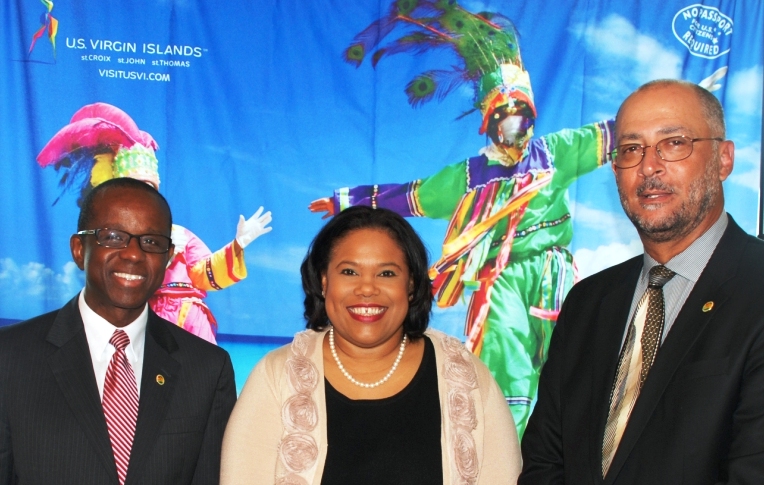 Caribbean tourism leaders met Monday at the Marriott Frenchman's Reef to discuss collaboration between island nations and territories, and an enhanced customer service and marketing plan they say islanders need to offer.
The V.I. Department of Tourism hosted the presentation titled "There Has Never Been a More Crucial Time in Caribbean Tourism." This theme was echoed by pleas for change and moving forward.
Richard Doumeng, president-elect of the Caribbean Hotel and Tourism Association, said, "If you live here, you are a stakeholder in the success of the tourism industry."
Keynote presenter was St. Kitts and Nevis Minister of Tourism and International Transport Richard Skerritt, who is also chairman of the Caribbean Tourism Organization's council of ministers. "Tourism has become a more competitive business and complacency is no longer an option," Skerritt said.
"The consumer is empowered. He is ignoring traditional advertising and demanding more value and quality for his money," he said.
Skerritt went on to explain that the desired Caribbean growth can be achieved through the collaboration of public and private sectors. There will still be competition, he said, but businesses need to work together for the common goal of boosting the economy by bringing in more tourists.
"Tourism is the business of sharing the best of who we are and what we have. It is the responsibility of the entire population," said Skerritt. "Future tourism needs a more creative and proactive private sector to drive employment, investment and growth, while never forgetting you need to satisfy the demanding customer."
The usual concerns – getting more money from the cruise industry, finding investors, marketing the Caribbean brand – were voiced and met with general answers. All amounted to the fact that tourism is an expensive industry which requires monetary and human investment.
Skerritt said, "Awareness is the issue. We have to make sure that the entire population understands the value of the industry" and works together to create a desirable product.
Franke Hoheb, chief of staff for the legislature, asked why the U.S. Virgin Islands had not yet explored the events tourism industry, suggesting bringing in tourists for Carnival and sports events.
Tourism Commissioner Beverly Nicholson-Doty noted that the department is experimenting with a Carnival package this year specifically so they can collect data about events tourism and see if that would be a profitable arena.
"We're working to measure so we have data and we can get additional funds," said Nicholson-Doty. "We need to market and promote instead of just subsidizing and funding."
Other concerns were raised about rising WAPA charges and being able to give the tourists value for a lower price when businesses are suffering.
Skerritt noted that the plans to find a private investor to fund a different power project have so far been unsuccessful.
He shared his anxiety about the United States proposing to increase aviation taxes, in turn causing airlines to increase fares. This would mean people are spending more on plane tickets and less on goods and services, Skerritt said, adding the Caribbean is at a disadvantage because our guests cannot drive here.
The Caribbean tourism realm has suffered greatly in recent years mostly due to the economic situation, but speakers encouraged those present to look beyond results that are immediately profitable for long-standing solutions.
Nicholson-Doty left listeners with these words: "I'm not thinking about today. I'm working towards tomorrow. I want my children and my children's children to believe we did a good job here."