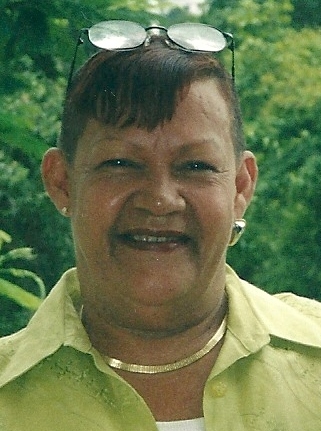 Betty Rojas Ottley died on March 19 in Bayamon, Puerto Rico. She was born on Jan. 16, 1950, on St. Thomas to the late Paulino and Marie Rojas. She was 62 years old.
She is survived by her son, Anthony Ottley; daughter, Andrea Ottley Johnson; brothers:
Gilberto 'Bolo' Rojas, Jose 'German' Rojas and Angel 'Zekey' Rojas; sisters: Luz Rojas Dorival, Mildred Rojas Stridiron and Maria Rojas Victorine; former husband, Andre Ottley; son-in-law, Ray Johnson; daughter-in-law, Koya Ottley; grandchildren:
Amoi Ottley, Abrianna Johnson, Amir Ottley and Aunyae Johnson; brothers-in-law: David Dorival and Elroy Matthias; and sisters-in-law:
Lillian Rojas, Juanita Rojas and Flor Rojas.
She is also survived by nephews:
Angel Rojas, Jr., Ulvin Rojas, Ricky Rojas, Zekey Rojas, Angel Ventura, Eugene Smalls, Roberto Smalls, Raymond Victorine, Reynaldo Victorine, David Dorival, Jr., Paulino Rojas III, Sheldon Rojas, Jose Rojas, Jr. and Cassius Rojas; nieces: Michelle Zamore, Tressy Rampersad, Lisa Rojas, Monique O'Brian Francis, Yvette O'Brian Joseph, Luz Monell, Valerie Stridiron Francis, Natasha Stridiron Brown, Dahlia Stridiron, Debra Stridiron, Jasmine Rojas Malone, Katiria Rojas, Miranda Rojas, Ilva Rojas, Donna Rojas, Tabitha Rojas, Luz Rojas Knight and Renee Rojas; special friends: Julia Wilson, Ruthlyn Jarvis and Wilbert 'Pilinky' Omarrow; as well as many other relatives and friends too numerous to mention.
There will be a funeral service held at 9 a.m. on Friday, March 30, at Frenchtown Evangelistic Assembly.
All arrangements are by Davis Funeral Home, 774-1464.