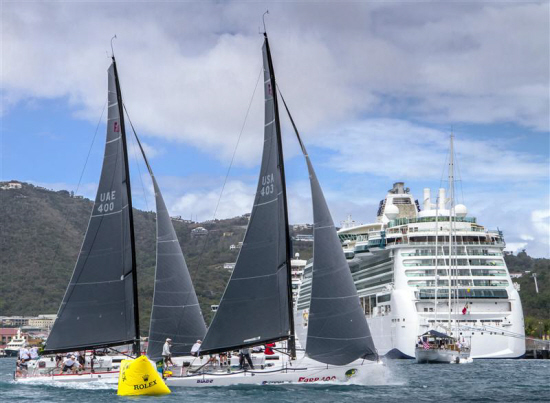 The three-day International Rolex Regatta kicked off with "town races," which took sailors from the host St. Thomas Yacht Club on the island's east end to Charlotte Amalie. Once there, the fleet of 68 boats, split into six classes, turned around and headed back, but only after sharing some colorful action with tourists on the downtown waterfront and on two cruise ships in port as well as fans perched at different vantage points along the route.
Gray clouds mingled with white all day Friday, giving tacticians as much cause to look upward to anticipate wind shifts as they did downward to read the play of the sapphire blue Caribbean Sea beneath them.
"Both of the races today were very different from each other," said Tony Rey (Newport, R.I.), tactician aboard Peter Cunningham's (George Town, CAY) PowerPlay, which finished 1-2 today to edge out Willem Wester's (Breskens, Zeeland, NED) Antilope, which posted a 3-1. "We owe 11 ½ minutes to Antilope in an hour of racing, so it's not easy to beat them, but we love planing, and 8-10 minutes into the first leg of the first race, a storm cloud came and we were off and running. That's how we got ahead — it was 16-18 knots for a while, and Peter did a fantastic job of driving."
Rey explained that in the second race the wind laid down. It was then that Antilope, the heavier displacement boat, had the advantage. Bill Alcott's (St. Clair Shores, Mich.) 65-footer Equation took line honors in both races and corrected out to third overall. Equation's navigator Chris Clark (Detroit) was happy with the outcome, saying that the crew had been sailing together a long time but not on this particular boat, which Alcott only recently bought. "We are gaining confidence," said Clark, "but the hard thing really is the boat draws 16 ½ feet, which is a lot. Today around one of the islands, we were about 500 feet away from it; even in Charlotte Amalie Harbour we had to be careful — it's hard to find the sweet spot for us on the course."
A disappointment to all in this class was the dismasting of Lord Irvine Laidlaw of Rothiemay's (MON) IRC 52 Highland Fling XII after a port spreader apparently failed. "It happened about five miles into the race after the first turning mark," said Michael Giles (SA), the boat's trimmer. "We had made some modifications after racing in Key West, and we were very happy because we knew they were the right changes. We were 100% percent sure we were winning, so it was unfortunate that it did come down." With no way to repair the rig before the end of the regatta, the boat is out of the running.
"It's absolutely a shame for a lot of reasons," said PowerPlay's Rey. "We were having a great race with them at the time when we heard a loud bang. She was a benchmark for us, and we were keen to see how we compared."
CSA racing boats (three classes), one-design IC 24s, and Beach Cats also joined in today's town races, with the IC 24s adding a third race afterwards.
"We actually had to take our spinnaker down in the first race," said Latitude 38's 18-year-old Nikki Barnes, who, with one of her all-girl crewmembers here (Augustina Barbuto, age 16) won a bronze medal for the Virgin Islands at last summer's ISAF Youth Championships (in international 420s). "There were a lot of boats broaching in our (IC 24) class." Though currently in 12th, Barnes says her experience in dinghy racing will serve her well over the next two days of racing, when the class will sail up to 14 more races. "We made so many mistakes in the long races; we are well practiced in short-course racing, and we will be so much better at that." Currently leading the IC 24s is Carlos Sierra's (Guaynabo, PR) Banana Boat/Fuataka.
Another young team of West Indian high school and sailing students is competing in CSA non-spinnaker class and currently sitting in second overall. They are led by Central High School (St. Croix) teacher Stan Jones aboard Tony Sanpere's (St. Croix) J/36 Cayennita Grande, which has won this class several times. Jack Desmond's (Marion, Mass.) Swan 48 Affinity posted a 1-2 today to Cayennita Grande's 3-1 to take the lead in the seven-boat class.
Jorge Ramos's Hobie 16 Universal leads the Beach Cats, while Andrea Scarabelli's (Cole Bay, St. Maarten) Melges 24 Budget Marine/GILL and Jaime Torres's (San Juan, PR) Beneteau First 40 Smile and Wave are leading CSA 1 and CSA 2, respectively.
Racing continues Saturday with all classes but the IC 24s racing within viewing distance of St. John's south shore.
Results
Place, Yacht Name, Type, Owner/Skipper, Hometown, Results, Total Points
IC 24 (One Design – 14 Boats)
1. Banana Boat/Fuataka, IC 24, Carlos R. Sierra , Guaynabo, PR, USA – 3, 1, 5, ; 9
2. Orion, IC 24, Fraito Lugo , Ponce, PR, USA – 1, 4, 4, ; 9
3. Cachondo, IC 24, Marco Teixidor , San Juan, PUR – 5, 2, 2, ; 9
CSA 1 (CSA – 9 Boats)
1. Budget Marine/GILL , Melges 24, Andrea Scarabelli , Cole Bay, St. Maarten, AHO – 1, 1, ; 2
2. Fire Water, Melges 24, Henry Leonnig , Nanny Cay, Tortola, BVI – 2, 3, ; 5
3. Magnitude 400, Farr 400, Doug Baker , Long Beach, CA, USA – 5, 2, ; 7
CSA 2 (CSA – 13 Boats)
1. Smile and Wave, Beneteau First 40, Jaime Torres , San Juan, PR, USA – 2, 1, ; 3
2. Lazy Dog, J 122, Sergio Sagramoso , San Juan, PR, USA – 3, 2, ; 5
3. Dark Star, J 105, Jonathan Lipuscek , San Juan, Puerto Rico, USA – 1, 6, ; 7
CSA Non-Spinnaker (CSA – 7 Boats)
1. Affinity, Swan 48, Jack Desmond , Marion, MA, USA – 1, 2, ; 3
2. Cayennita Grande, J 36, Antonio Sanpere , Christiansted, VI, USA – 3, 1, ; 4
3. Hotel California too, Cruising SC70, Stephen Schmidt , St Thomas, USVI, USA – 2, 5, ; 7
IRC 1 (IRC – 9 Boats)
1. PowerPlay, TP 52, Peter Cunningham , George Town, CAY – 1, 2, ; 3
2. Antilope, Grand Soleil 46, Willem Wester , Breskens, Zeeland, NED – 3, 1, ; 4
3. Equation, STP 65, W.Alcott / E.Palm / T.Anderson , St Clair Shores, MI, USA – 2, 3, ; 5
Beach Cats (Portsmouth – 10 Boats)
1. Universal, Hobie 16, Jorge Ramos , San Juan, PR, USA – 2, 1, ; 3
2. Time Out, Hobie 16, John Holmberg , St. Thomas, VI, USA – 1, 2, ; 3
3. Zhik, Nacra 20, Trey Brown , Taylors, SC, USA – 4, 3, ; 7