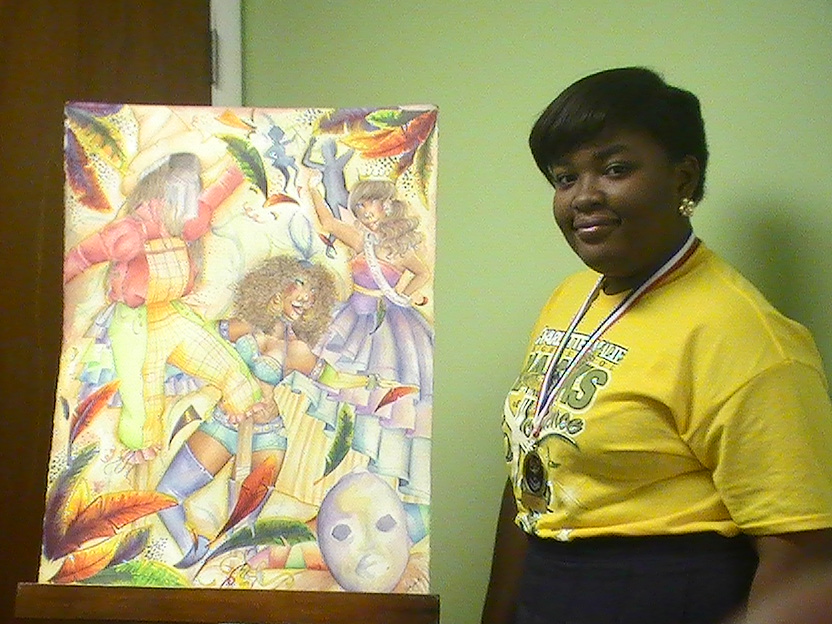 A distinguished panel of judges comprised of Virgin Islands artists have selected the winner of the Department of Tourism's Teen Carnival Poster contest. Open to students ages 14 to 18, the contest asked students to present their most creative depiction of Carnival.
Makeda Joseph, a senior at the Charlotte Amalie High School and a member of the National Art Honor Society, has been chosen as the winner of the contest. Her interpretation of the annual festivities was colorful, abstract and creative, and it depicted the energy felt during the cultural celebration.
"All of the entries were masterful," said Tourism Commissioner Beverly Nicholson-Doty. "They spoke to the creativity of our young people and their ability to communicate through artist expression. It's a proud moment to see this kind of talent available in our Virgin Islands."
Joseph's art, which was created with a combination of colored pencils and watercolor, will be reproduced as a poster and used by DOT to promote the 60th anniversary of Carnival. As the winner, she will be awarded a $500 while her school will receive a $500 donation for use by the CAHS art department.
When asked about the inspiration for her winning entry, Joseph said, "I thought about what Carnival was like when I was younger. Putting the poster in collage form allowed me to include many different elements, some of which I don't see that much of nowadays in our parades."
The other finalists were Jazmine Willocks (St. Croix Country Day School); Shannon Newland Antilles School); and Jerrell James (Ivanna Eudora Kean High School). In addition to their submissions being on display at the Department of Tourism Office, each will receive a gift bag. The poster contest is just one of a variety of initiatives the Department of Tourism is implementing this year to promote the anniversary of Carnival both locally and abroad.