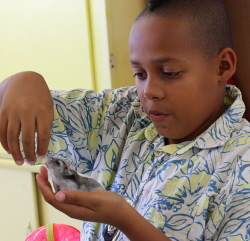 Students at the Good Hope School demonstrated the trials and tribulations of the scientific method Friday at the Annual Fourth and Fifth Grade Science and Social Studies Fair.
Fifth grade science teacher Tori Baur said the event was a big relief for the students, who have been preparing for the fair for a long time.
"We start thinking about science fair pretty much from day one, because the very first thing we do is teach the scientific method," she said.
The children received their experiment topics just before Christmas and have been working on them since. They stood proudly in front of their tri-fold boards, ready to answer any questions visitors might have on their topic.
Fifth grader Ricardo Lopez's presentation was on the still prickly topic of Pluto losing its status as a planet. His board had various pictures of the solar system as well as images of angry crowds protesting Pluto's demotion.
Lopez explained that in order for something to be a planet, it must be the largest body in its orbit. Since Pluto crosses the orbit of the much larger Neptune, it doesn't qualify.
Despite what the scientists think, Ricardo maintains his own opinion on the topic. Asked whether he thought Pluto should be a planet, he replied, "Yeah. They're being a bit too harsh."
The children tackled a wide range of topics at the fair. There were potato batteries and slime molds, of course, but also some truly unique experiments.
Fifth grader Erica Chancellor's project, "Zombies: Biotic or Abiotic?" set out to answer once and for all whether the "living dead" were in fact living or dead.
She found from her research that in order to be classified as alive, an organism must be able to breath, walk, grow, communicate, consume, nourish, and procreate. Zombies could only do two of the seven, and even then one of those is optional.
"They can consume, but they don't have to. They just crave," she said, then after a pause added, "Brains!"
Baur said imaginative topics like this were perfect for fourth and fifth graders. She said the goal of the fair was to teach the kids the basics of research and experimentation.
"We want them to have a really good time and think science is fun so that they'll be happy doing the intense science projects in high school," she said.
In that regard, the science fair seemed to be a success. The kids all said they had fun and learned a lot about how to conduct experiments.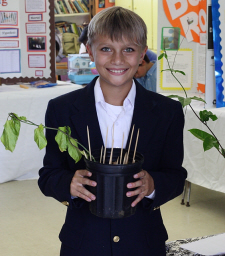 Wylie Crowther and Sam Cole learned about the discipline required in long experiments. The two fifth graders spent two weeks training a pair of hamsters to respond to voice commands. Every day they had to condition the rodents to stand up when presented with bits of cheddar cheese until finally they would do so when no treat was present.
The boys said that even with the cheese, it wasn't easy.
"They weren't working with us sometimes," Cole said.
Fifth grader Andreas Moorman got a crash course in how to adjust to unforeseen complications.
His experiment measured the effects of fish, compost, and store-bought fertilizer on plants measured against a control sample. He brought in all four plants as part of his display. The sample containing the bits of fish stood out from the others because it also had several sharp wooden sticks poking out of the soil.
"I put the spikes in because the first time I tried it the dogs got into it," he explained.
Baur was visibly proud of her students and said that she was impressed by how ambitious some of the projects were.
"I feel so lucky with this group," she said. "They're great kids."