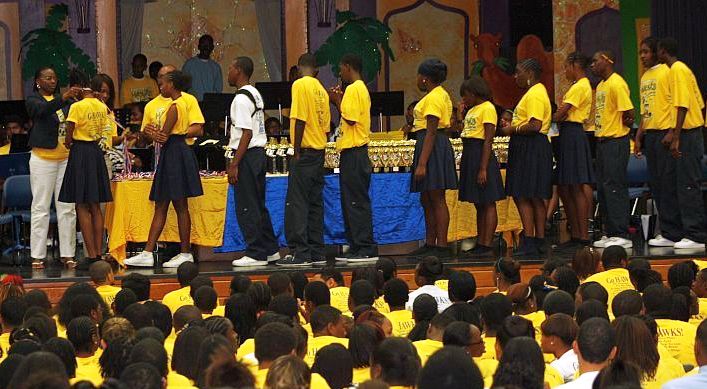 Results from last year's V.I. Territorial Assessment of Learning (VITAL-S) exams are in for Charlotte Amalie High School and more than 500 students celebrate their performance Wednesday in the school's auditorium.
Medals were awarded to students that scored in the fiftieth percentile or higher in either reading or math, and those that excelled in both areas also got trophies. The top 10 scorers (in the 8oth or 90th percentile) received NOOK tablets, courtesy of administrators and staff.
CAHS Principal Carmen Howell distributed the awards to the student achievers, all dressed in celebratory gold T-shirts. Howell has been encouraging faculty and staff to work with students on practice tests and make after-school extra sessions available.
The VITAL exams are designed to measure proficiency in core subjects and scores of students determine whether each school meets proficiency benchmarks.