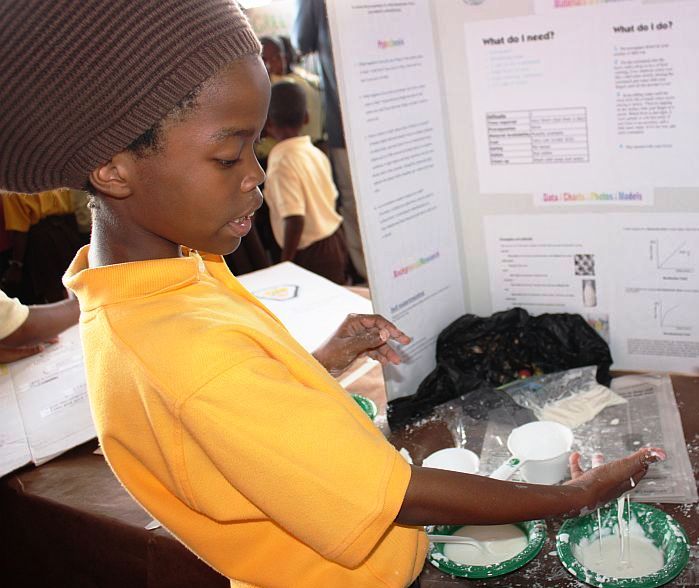 Surrounded by a group of his classmates, 8-year-old Ahasani Ambo slowly began to fill a glass cup with water. Adding a few squirts of food coloring, Ambo then topped the glass with a thin piece of cardboard, held it in place a minute and turned it over. With gasps of amazement, the students gathered around him began to whisper, wondering what kept the cardboard in place and the water from tumbling all over the floor.
Ambo began to explain that the secret was simply air pressure – one of the many scientific concepts that students at Joseph Gomez Elementary on St. Thomas have been exploring over the past few weeks as they prepare for their annual science fair.
One of the more popular experiments on display Thursday included a cornstarch colloid station created by 8-year-old Shakari Brooks. A colloid is a mixture in which one substance is divided into minute particles (called colloidal particles) and dispersed throughout a second substance. To conduct his experiment, Brooks used a simple mixture of cornstarch and water, and demonstrated to students how the substance can remain solid if he punched it quickly, or liquefy if he dipped his hand in slowly.
Classmates Jah'she'her Newton and Aneyra Joseph tried to disprove the hypothesis that ice cream, when baked in an oven, would melt. In carrying out their project, the girls created a mixture of sugar and egg whites was brushed over the ice cream, creating a protective barrier of air bubbles.
"So when we put the ice cream in the oven and baked it, everything stayed in place," Newton said. "This is why we love science so much – you can do anything, even when it seems impossible."
The need to defy reality was a popular sentiment expressed by many students at Thursday's fair. Curious about the concept of "super human strength," for example, third-grader Peter Eloi decided to test how much weight an egg can hold before its shell begins to crack.
"In most cases, it's about 7.2 lbs," Eloi said. "But in other cases, the shell didn't crack at all. It was pretty cool."
Gomez School Principal Freida Farrow said afterward that the teachers and staff are constantly impressed by the work the students do every year.
"It's just fantastic," Farrow said. "From the quality to the interest that the children show, we are very proud of what they do and we are excited that we can continue to meld these two concepts of technology and science together with our annual fair."
Technology teacher Danise Charleswell, who started the annual science fair five years ago, said she tries to integrate the "wonderful world of science" into everything she does.
"I really have a passion for it," she said, adding that she thinks it has rubbed off on the students "because they have always been really excited about doing these experiments and participating in the fair."
Charleswell said she gets the students started each year by having them explore a range of scientific websites containing possible project ideas. The students pick the ideas they like best and get down to work, which includes everything from buying the materials, developing a hypothesis, and documenting their evidence as they go along.