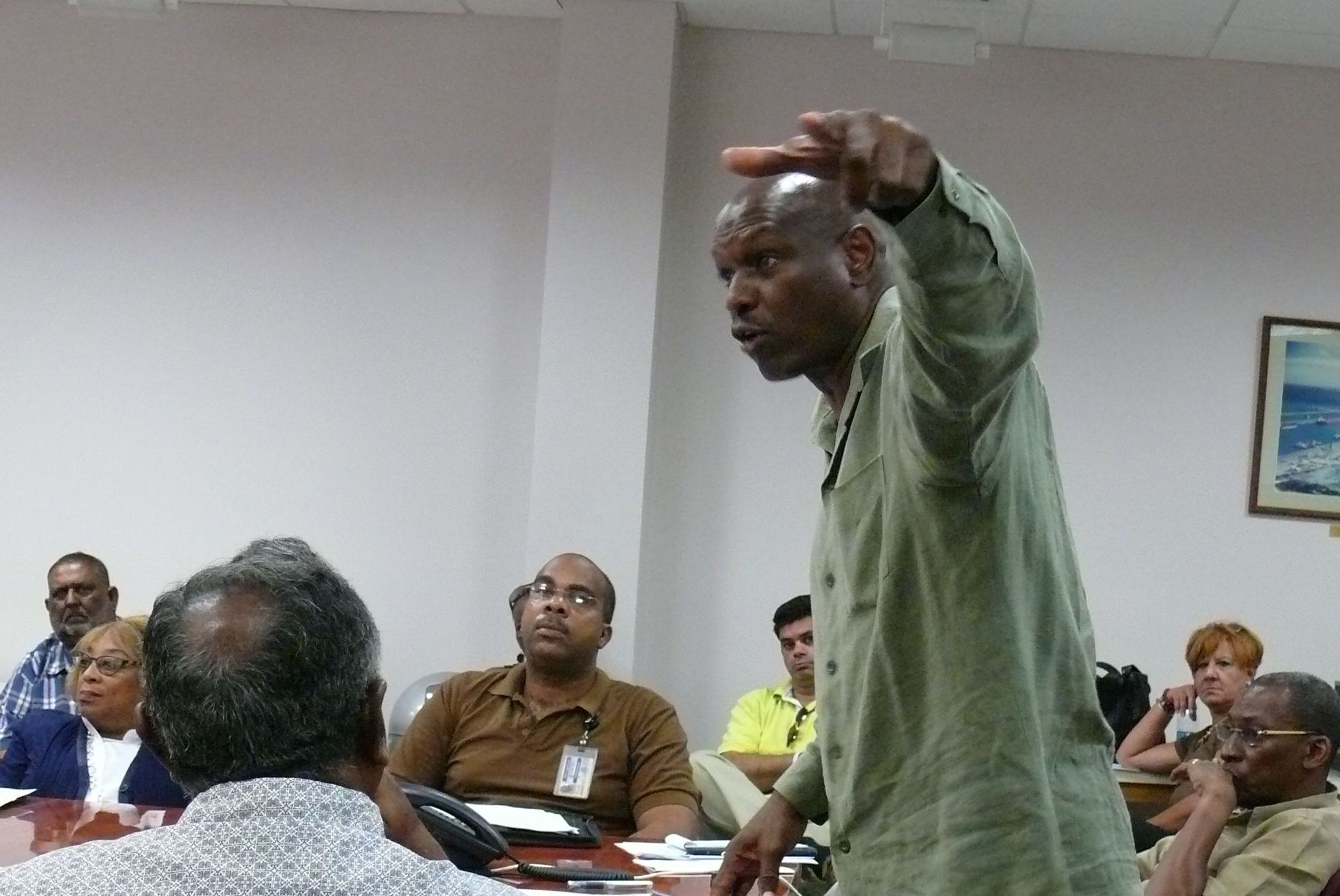 If possible, St. Croix gas station owners want to keep using Hovensa's rack system and storage after the shuttered refinery stops supplying the territory in June, several owners told senators at a forum on St. Croix Monday.
The St. Croix forum was one of two held in the V.I. Port Authority offices in each district Monday to talk with owners about their plans for adapting to the loss of Hovensa. The forum was also held to discuss a bill sponsored by Sen. Carlton "Ital" Dowe and six other members of the Senate majority caucus that would exempt imported gasoline and diesel from six cents per gallon customs duties, while increasing the fuel tax from seven cents up to 14 cents per gallon.
The bill would then allocate those fuel tax revenues to purchase new, more efficient power generating units in both districts and help the V.I. Water and Power Authority secure bond financing. Sens. Dowe, Usie Richards and Sammuel Sanes conducted the meeting.
"We commend you with this bill," said Rafael Llanos, who manages a vehicle fleet on St. Croix. "Thank you very much, but you can't get 14 cents on zero gallons. All these guys want to know is where the gas is going to be coming from," he said.
"I buy 200,000 gallons of fuel per year and nobody can tell me how we are going to fill those tanks," Llanos said.
Another station owner, who declined to give his name to the press, said they need to get a solid answer soon, because right now Hovensa's rack is the only equipment currently on St. Croix to move fuel from a ship or storage tank to a truck for transport across the island.
He said a new mechanism must be set up quickly if Hovensa will not lease its rack. If the question is not resolved in time, he said, there would be no gasoline on St. Croix from when Hovensa stops supplying until a new mechanism is in place.
Store owner Roy Mejias also emphasized that ensuring fuel continued flowing to St. Croix without interruption was his highest priority.
"We have two things here: one is getting the fuel, which is our main concern, and the other is the seven cent increase in the tax," Mejias said. "I don't think we should discuss them at the same time."
"Whether the money will go to WAPA is another," he continued. "Personally I think it will just end up in the General Fund to cover payroll. … The road tax before never went to roads. It says road tax on the books but it never did," Mejias said.
The executive branch is the party actually negotiating with Hovensa, and the Legislature has very little role or power over that, Dowe and Richards told gas station owners.
Dowe said he would raise the question of fuel storage and use of Hovensa's rack when he next spoke with the governor later this week.
Gas station owner Wajeeh Abdallah said he could absorb a tax increase if utility rates actually went down.
"Can you guarantee me my light bill will be cut in half? If you can, I am for it, but rates might go higher," Abdallah said.
Dowe replied he is "confident rates will go down" if WAPA is able to get newer, more fuel efficient generators online producing power with less fuel.
Reached Monday afternoon, Hovensa spokesman David Roznowski said Hovensa plans to make the rack available for use after June 30, when the refinery will no longer be supplying fuel to the territory. Details are still being worked out, he said.