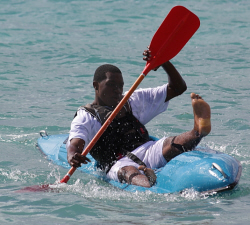 Rainbow Beach played host to an odd race Sunday as the U.S. Virgin Islands Council of the Boy Scouts of America held its 28th Annual Royak Regatta.
The scouts drew a lot of attention on the beach, which was as crowded as ever on Sunday. As the festivities began several of the regular beachgoers came over to see what the race was all about. The chief question on their lips was, "What's a royak?"
"A royak is a vessel that is entirely unlike anything [the participants] have ever paddled before and I'm sure you've ever paddled before," said Toby Tobias, a spokesman for the scouts.
The boats were long and thin, and paddlers sat on top, close to the front of the vessel. In shape, they bore a passing resemblance to kayaks, but Tobias insists the likeness is only superficial.
"It doesn't behave like a canoe and it doesn't behave like a kayak," he said. "It has a full keel, which makes it very difficult to run, and when it does turn it has a tendency to have a mind of its own."
The participants found this out for themselves very quickly. As the race began, the first two paddlers sprinted towards the first buoy, but once they got there things got difficult. The royaks responded sluggishly or, for some paddlers, not at all.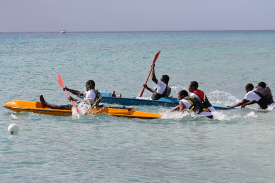 The race's two seemingly simple turns baffled many participants. They took big looping paths trying to pass the buoys on the correct side. Many had to double back and try several times.
Paddlers leaned into their turns in an attempt to get the cumbersome boats to respond, only to have the craft begin to tip. For the most part the paddlers stayed on top of their boats, though a few ended up in the ocean.
The regatta was a single elimination tournament between five-member relay teams with four boys and one girl on each. Ten teams sponsored by local businesses competed in the children's division and two in the adult's.
In the children's division the Central High School ROTC Sharks sponsored by Hunter, Cole, and Bennett came away with the top honors. The Manor School Mad Dawgs Junior Ranch Program sponsored by O'Neil Transport came in second followed by Troop 34 sponsored by Gulf Coast Kitchens in third.
Troop 227 sponsored by St. Croix Marine won the adult division.
The regatta is one of the major fundraising events for the Boy Scouts in the Virgin Islands. Seventeen sponsors stepped forward to make the even happen, including Innovative as the main sponsor with a $5,000 donation.
A second regatta will be held on St. Thomas on March 31 at Magens Bay. Team registration for that race is still open. To join the race or sponsor a team, contact Wilbert Lindesay at (340) 775-0703.