The word you are about to spell, the moderator at Friday's St. Thomas-St. John District's Intermediate Spelling Bee contest cautioned, might not be as clear-cut as it sounds or seems to be.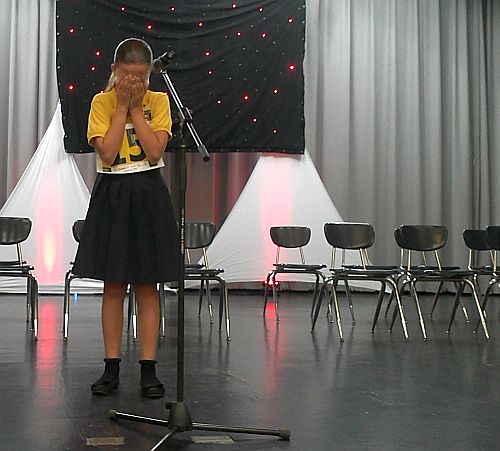 Keeping that warning in mind, 11-year-old Shania Querrard held her breath at Bertha C. Boschulte Middle School.
"Your word is 'humble,'" the moderator said. Shania let her breath out quickly and smiled, obviously relieved.
"Oh," she said, making the audience laugh. She spelled the word correctly and moved onto the seventh round, where she correctly spelled 'behest." She won with the word "confidence."
The competition was fierce, but after eight rounds Friday, it was Querrard who took first place in the bee.
"I feel lucky, and very excited to be moving onto the next competition," Querrard, a sixth-grader at the New Testament Academy, said after the tense contest. Querrard clenched the title after correctly spelling the words "jute" and "confidence" in the final round.
"I wasn't sure about 'jute,'" Querrard said. "I thought it might start with a 'g,' but then I thought I would try the 'j,' and I was right, so I am definitely happy about that."
First runner up this year was 11-year-old Jelani Byron, a sixth grader at Yvonne Milliner-Bowsky Elementary. Byron also made it to the eighth round Friday after correctly spelling words such as "surrealist," "cellophane" and "scythe."
"I had a little trouble in the last round with the word 'pragmatic,' and at first I was a bit disappointed when I got out, but then I reminded myself that I am always a champion, no matter what," Byron said afterward.
Aaron Harris, a 10 year-old sixth grader at St. Patrick's School, also outlasted 23 others spellers to win the St. Croix District's Spelling Bee Championship Friday at Good Hope School's James Savage Center for the Performing Arts.
Harris' kept the mood upbeat throughout the day, and often got laughs from his performance during the spelling rounds. It was only fitting that his final word of the day was "jocular," which many thought best described his overall style.
First runner-up was Khaien Donnawa of Claude O. Markoe Elementary School.
Harris, Donnawa, Kyle Fennessey of Good Hope School, Yad Bass of Ricardo Richards Elementary, Imani Evans of Pearl B. Larsen Elementary, and N'bari Alexander of Church of God Holiness Academy will represent the St. Croix District in the Territorial Spelling Bee scheduled for March 9th on St. Thomas.
Joining Querrard and Byron on the St. Thomas-St. John District's team for the Territorial Spelling Bee are: Degianni Fleming from Antilles School, Amaru Jeffrey from Lockhart Elementary School, Silas Wisehart from the V.I. Montessori School and International Academy, and Leon Zamore from Calvary Christian Academy.
The Virgin Islands Daily News and the Department of Education are the primary sponsors of the spelling bee. Other sponsors include Houghton Mifflin Harcourt, Scholastic Inc., Discovery Education, Frederiksted Twin City Lions Club, St. Croix Lions Club, and St. Croix Central High School's FBLA.
District Language Arts Coordinator Cheryl Jerimiah-Ambrose directs the St. Croix District spelling bees, while Spelling Coordinator Mary Harley organizes those on St. Thomas-St. John.
Each school participating in the event is enrolled in the Scripps National Spelling Bee program. Every year, the schools hold their own bees for students in the fourth through eighth grades, and each champion is sent on to the District Bee. The top six scorers from each District competition then face off in the Territorial Spelling Bee.
The territorial winner then advances to the Scripps national competition, which will be held during the week of May 27, through June 1, 2012. All local bees adhere to Scripps' guidelines, with students using materials supplied by the program and Merriam-Webster.
On Friday, Sharon Koppelman, the aunt of St. Thomas-St. John winner Querrard, came out to support her niece with Querrard's grandmother, Irene Querrard.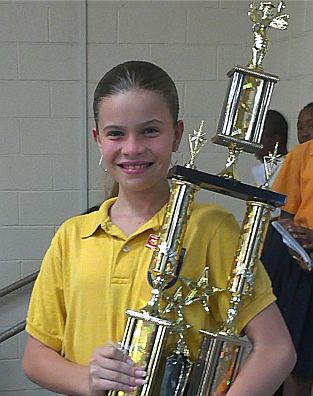 "We are just so ecstatic that she won," Koppelman said. "She studied every single day after school, and again when she came home in the event, and whenever we could, we would run the list of words down with her. But even up to this morning, she was so nervous; she didn't believe she was going to win. She said 'I hope I at least make it to the sixth round,' but here it is, she made it all the way."
Koppelman said that a tutor was provided by the school to help her niece with the preparations, but Shania's aunt Julie Quetel also helped out with the coaching.
After the bee, Shania said she believed that working with two tutors "definitely" helped her to win.