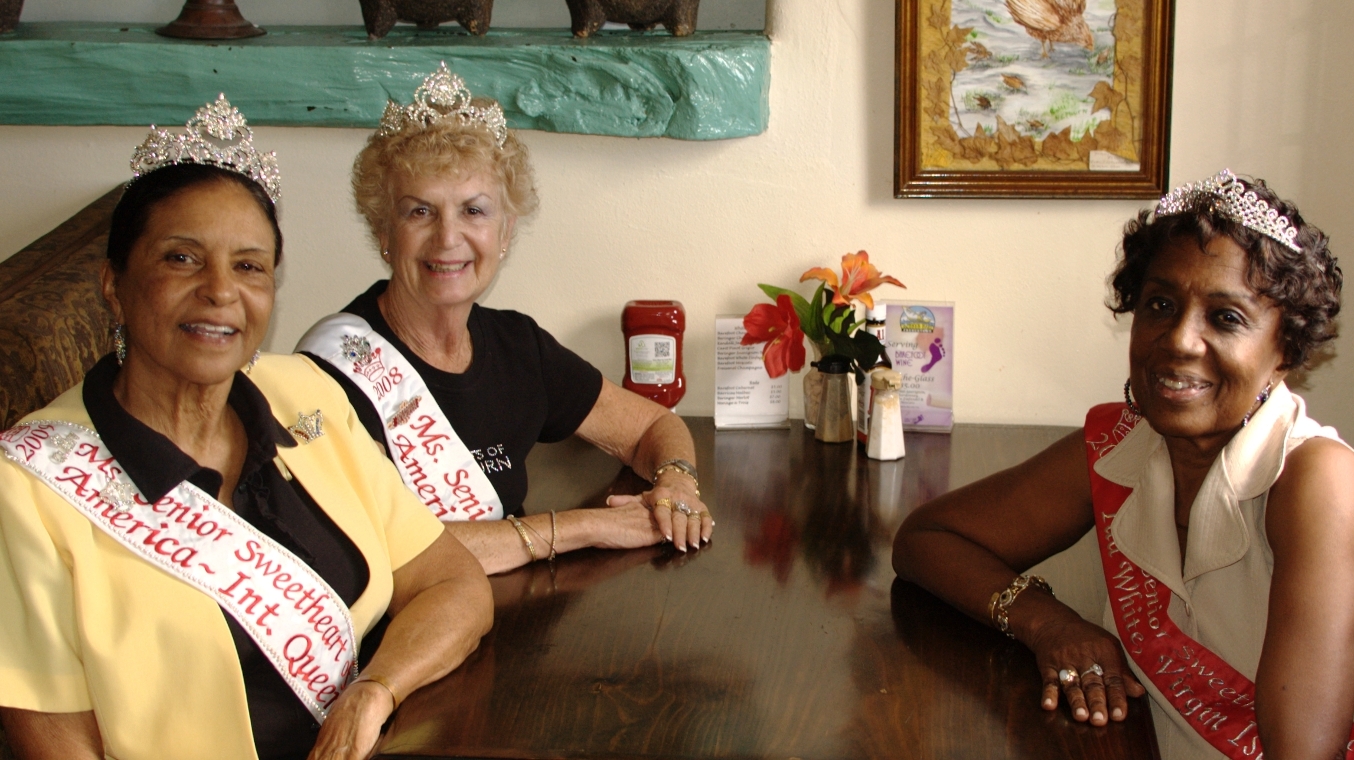 Three St. Thomas septuagenarians who joined the senior beauty pageant circuit in search of friendship, fun and self-discovery are tickled to report that "Pretty Old," a documentary based on their quirky community, debuted at the recent Santa Barbara International Film Festival to critical acclaim.
Directed by New York City filmmaker Walter Matteson, "Pretty Old" follows four women who competed in the 30th Annual Ms. Senior Sweetheart Beauty Pageant in Fall River, Mass. One of these, Ida White, is a retired St. Thomas teacher who the film's creators describe as "loud, intelligent and insightful."
Two other local women – Toya Andrew and Carol Tuohy – make smaller appearances in the film, which took home the California festival's Best Documentary Film Award. Festival organizers had to add two extra showings of the popular film, which "Sex and the City" star Sarah Jessica Parker has signed on to executive produce.
On Monday afternoon at Betsy's Bar in Frenchtown, the trio sported their jeweled tiaras, satin sashes and sparkling rings. Only Tuohy and White were able to attend the festival, because Andrew had to stay on St. Thomas to care for her husband, who is battling Parkinson's disease.
The pair joined other featured contestants from across the country for the festival showings, which were followed by lively question-and-answer sessions with audience members. During these showings – as well as several film-promoting excursions organized by Parker's company, Pretty Matches Productions – the women sported their full pageant regalia at the behest of the film's publicists.
"So wherever we went in Santa Barbara, here were these ladies wearing sashes, tiaras and crowns," White said.
"There was never a moment when we didn't have cameras and microphones in our faces," added Tuohy, who was obviously pleased with the royal attention they received.
One of the trip's highlights, they said, was their lunch at Stonehouse Restaurant at San Ysidro Ranch.
"It's where the movie stars go," Tuohy said, her eyes open wide.
"It's where Oprah lives, and where she takes her friends," White added.
"Boy," Andrew piped in, sounding sad. "I missed a good one."
Tuohy reassured her friend that next time she, too, will be able to see herself light up the big screen and receive the same royal treatment.
The moment alluded to many of the difficult situations faced by those featured in the film. All are survivors of something, the women said, whether that's breast cancer (Tuohy's a two-time survivor), watching a spouse's health falter (Andrew), or losing a friend, a situation that resonates with them all.
Experiencing a friend's death features prominently in the film, as one of the four main characters, Frances Christian, is depicted during her battle with ovarian cancer, which she eventually lost.
"We didn't only cry," Tuohy said of the watching the film. "We sobbed, and then we laughed, and then we sobbed again."
The film is also about the ladies' quest to find their aging forms beautiful in the face of a culture that places a premium on youth. To that end, Tuohy and White visited a Santa Barbara middle school, where they talked with students about how inner beauty is what really counts.
With Sarah Jessica Parker's experienced and well-connected crew on board for the project, the St. Thomas stars are hoping they'll have a chance to see themselves on the big screen again soon.
That may not be a problem.
"We plan on screening at festivals both in the U.S. and abroad over the next six to 12 months," Josh Alexander, one of the film's writers and producers, said in an email. "But ultimately, our hope is to screen at as many theatres as we can across the country before being shown on TV."