It was a special Valentine's Day for Carl Milligan, CEO of Golden Eagle Financial, as he accepted a plaque Tuesday from Rotary Club of St. Thomas Sunrise for his company's support for the past five years.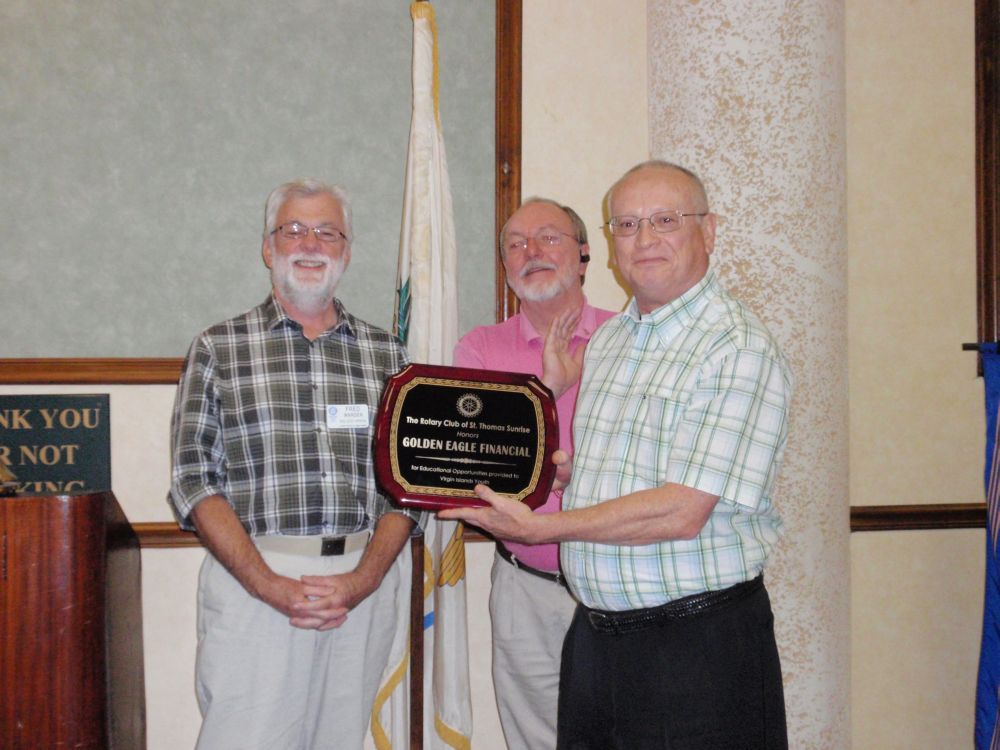 President elect Fred Warden praised Golden Eagle's involvement with the community in providing educational opportunities for Virgin Islands youth.
The annual AT&T Rotary Sunrise Golf Scramble last year raised $40,000 for the Ron Magunson Scholarship Fund and many Rotary Sunrise charities.
It was not hearts and flowers, Milligan said on this day set aside for lovers, but love for the community that has inspired Golden Eagle's support. Milligan, who has grown children of his own, has been on the island about 10 years, long enough, he said, to see the need for more educational opportunities.
"Education is the key to keeping youngsters busy, off the street and out of trouble," he said. "We have lots of problems in the community, and we want to be part of the solution. One important way to do that is to give students a solid education through scholarships, so they will either stay on island and study or come back and contribute to the community."
The golf fundraiser supports four local students at the University of the Virgin Islands and one student enrolled in the International Baccalaureate program at The International Academy of the Virgin Islands. All are on full scholarships.
In addition, Golden Eagle Financial supports a business scholarship at UVI for students majoring in the financial field, Milligan said.