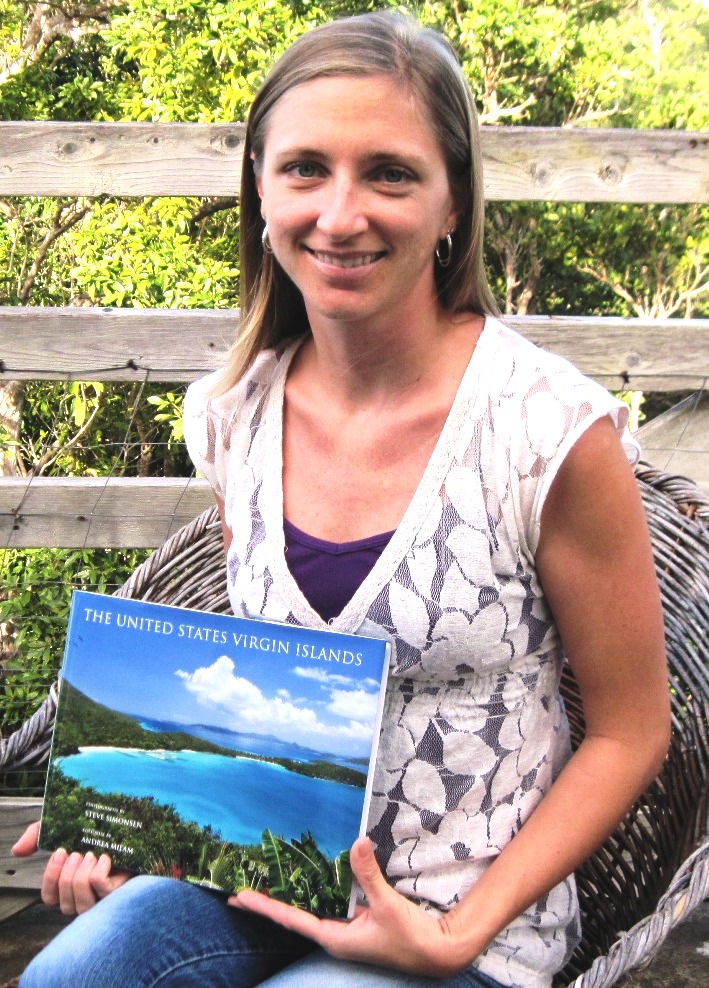 Andrea Milam is pumping up her creative juices as a wordsmith. While lots of folks know her as a part-time reporter for Tradewinds, St. John's weekly newspaper, she recently authored the introduction and captions for St. John resident and photographer Steve Simonsen's new book, "The United States Virgin Islands."
Milam, 30, had just copy edited his 2012 calendar, and said Simonsen recommended to the publisher that she do the writing.
"Of course, I said yes," she said.
It had a quick deadline, and Milam said she wrote all the copy in two weeks.
Milam is no stranger to the world of freelance writing. She's a contributor to St. John Magazine and has written for Caribbean Travel and Life, the Trinidad-based lifestyle magazine, Maco, contributes to several travel websites, and does work for local businesses.
She's been on St. John since 2005, arriving for a reason that gave her mother more than a few nervous moments. She had planned to move to Barbados to be with a boyfriend, but that didn't work out. But visits there whetted her appetite for the Caribbean, so she started doing some research. Milam decided to move to St. Thomas and began asking questions on an Internet relocation board, www.vimovingcenter.com.
A St. John-based architect, Ted Chouiniere, began answering her questions. One thing led to slews of emails and phone calls and soon she had an invitation to sleep on his couch if she decided to move. To make sure she wasn't getting into more than she bargained for, she googled his name and did some more research before getting on the plane.
"He picked me up at the airport sight unseen. It was a big leap of faith for sure," she said.
The couch was short lived, and the two got married at Oppenheimer Beach in 2007. Their son, Dax, followed a year later.
The Columbus, Ohio-born Milam always hated cold weather. She escaped to the University of Central Florida in Orlando, where she graduated with a bachelor's degree in liberal studies. She moved briefly back to Ohio after graduation, but soon began looking for a way south.
She takes advantage of St. John's wonderful weather with the family's new paddleboard. And she tends to media duties for the St. John Historical Society, a volunteer job she took on after she noticed many typographical errors in the organization's news letter.
Milam enjoys cooking up a storm, but said she doesn't have much time for other pursuits.
"I'm a mom and that takes up a lot of time," she said.
Visit www.andreamilam.com.