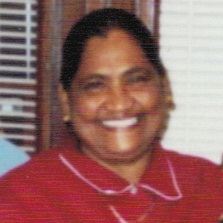 Rachael Thelma Joseph, also known as "Rach," of Estate Whim died on Feb. 8 at her residence. She was 66 years old.
She is survived by her husband, Flavius Joseph; mother and father: Vira Simon and Peter Simon; grandparents: Alice and Edward Sewak; daughters: Marilyn Joseph and Anicia Joseph; sons: John Joseph, Julius Joseph Sr., Francis Joseph, Lindel Joseph and Flavius E. Joseph; grandchildren: Jamie A. Joseph, Julius Joseph Jr. and Melina S. Marquis; daughter-in-law, Margaret G. Joseph; son-in-law, Wilston Marquis; sisters: Mary Moona, Melanie Joseph, Edmona Papius, Leticia Khodra and Lectina Simon; and brothers: Egbert Simon, Francis Simon, Jim Simon and Canistus Simon.
She is also survived by nieces: Elora William and Camira Joseph; nephews: Lawrence Joseph, Gregory Joseph and Kendall Joseph; uncle, Jerome Edward; special friends: the Jagrup family, the Biroo family, the Amedee family, the Carmichael family, the Brunkers family, the Wilson family, the Khodra family, Malaykhan, Gangadine and Dariah, and the Charles family, the Glasgow family, the Tison family and the Flavius family; brothers-in-law: Cornelius Joseph, Donat Joseph, George Joseph and Pius Joseph; as well as other relatives and friends too numerous to mention.
The viewing will be held at 10 a.m. and a funeral service at 10:30 a.m. on Wednesday, Feb. 15, at St. Patrick's Catholic Church. Interment will follow at the Kingshill Cemetery.
All arrangements are by James Memorial Funeral Home Inc.