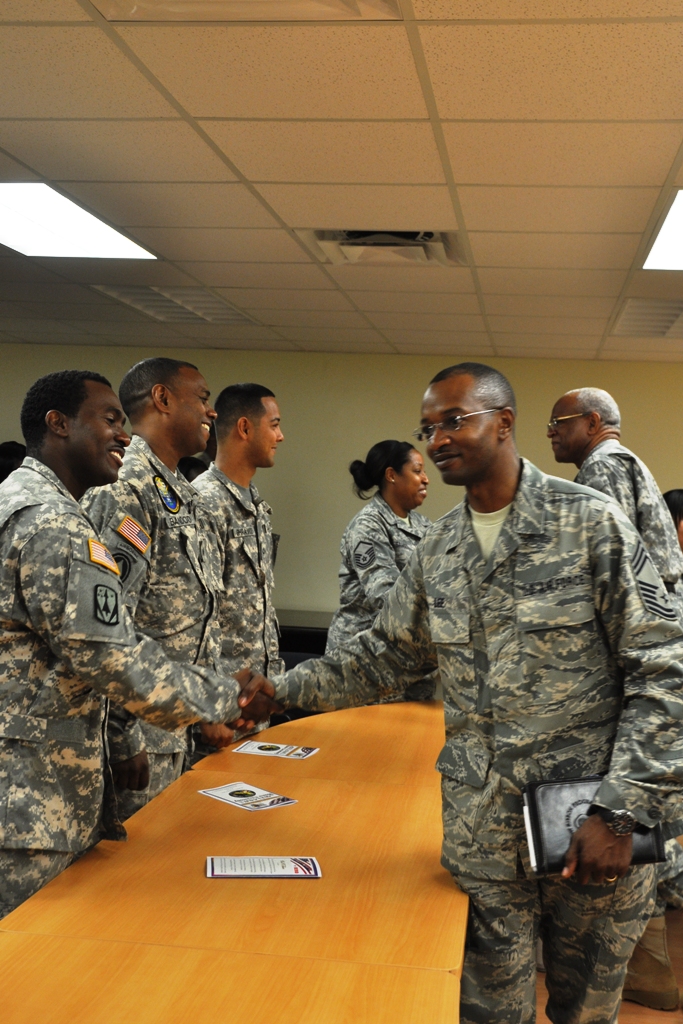 Friends, family, and guardsmen crowded into the Lieutenant Colonel Lionel Jackson Armory on Thursday night on St. Croix to welcome home 19 V.I. National Guard soldiers and airmen, who returned from worldwide deployments in the last quarter of 2011.
The Adjutant General for the V.I. National Guard, Maj. Gen. Renaldo Rivera, conducted the Welcome Ceremony in recognition for the service and sacrifice of the guardsmen, who served various missions around the world during 2011.
Five airmen from the V.I. Air National Guard were honored for their service in Iraq and Italy, and 14 Army National Guard troops were honored for service in Cuba (Guantanamo), Korea, and Iraq.
The guardsmen entered the room shortly after 5 p.m. to thunderous applause from the crowd, mostly family members, who seemed thrilled to have their loved ones home and away from harm.
The father of Pfc. Benjamin Ghirawoo, Peter, was visibly happy to have his son home, and couldn't stop smiling throughout the evening. He said, even though it was a short deployment, he never stopped worrying.
"When I heard the news that they were coming back early, I was so glad – you have no idea," he said.
After the opening remarks and a prayer, several soldiers got up to the podium to speak about their various missions.
Col. Caroline Fawkes, who served as a director of plans, operations and training at Guantanamo Bay (GITMO), explained how the strategic mission differs from combat missions in Iraq and Afghanistan.
"Our admirals always said in Iraq and Afghanistan you can shoot back, in Guantanamo, you can't," Fawkes said. "If we do something too early – we're over reacting, if we do something too late, we're negligent, so we have to be on target 100 percent of the time."
Capt. Sekou Richardson worked with the South Korean Army on his deployment to South Korea. He explained that his experience working with a joint staff gave him a dynamic opportunity as a V.I. National Guard soldier, and he said people were often surprised when they found out he was a guardsmen.
Delta Company 126th Aviation, Detachment 2 was deployed to Iraq in August with nine members – 1st Lt. Andres Velazquez spoke for his fellow soldiers – the unit returned home early because of President Obama's decision to pull all troops out of Iraq before the end of 2012.
"This deployment was short, but it was a deployment. Soldiers were separated from family members and we went into harm's way to support Operation New Dawn," Velazquez said. "We in Aviation made sure the Virgin Islands Flag came home with honor."
The crowd became quietly somber when Capt. Steve Alexander got up to the podium and spoke about the dangers he faced on his individual mission in Iraq as a logistical advisor to the Iraqi government. He explained the difficulties of changing rules of engagement midway through a deployment.
"Initially, the mission started as OIF [Operation Iraqi Freedom] and the rules of engagement said we could roll through Baghdad without Iraqis coming to threaten us, but as we transitioned to New Dawn, the Iraqi government took the lead, and as we rolled through Baghdad, we basically were on our own," Alexander said, later adding that he served as a gunner for 50 missions.
Capt. Jon Hult, the acting commander for the 285th Combat Communications Squadron, which had five airmen deploy in 2011, praised the airmen in his unit for volunteering.
"American forces, whether active duty or guard, are volunteers, and what you see before you are volunteers times two – or volunteers squared," Hult said. "These guys and gals have volunteered twice, not just to serve – but also to deploy."
State Command Chief for the V.I. Air Guard, Chief Master Sgt. Neville Lee echoed that sentiment as he talked about a picture he saw while serving in the Pentagon. He said the photograph had a group of military members all raising their right hands, and at the bottom of the picture was an inscription that read "Send me."
"When I looked at that picture, I see every single one of you airmen and soldiers saying, 'Send me.' You were at that point volunteering, saying, 'Send me.' Thank you for volunteering," Lee said.
Rivera gave an emotional speech that drew tears for many family members. He said as commander of the VING, he must always remain close to the phone, hoping and praying that he never again has to answer the call of a fallen guardsman.
"I met the pilots at the airport and when you left, I said 'Safe Skies' because even though they are not the ground, those that are on the ground had protection," Rivera said, choking back tears.
Still holding back tears, Rivera pointed to the American flag, "See that flag?" He asked. "That's the way you want to see it – now. You want to look at it, embrace it, love it, cherish it and honor it, because I don't want to give any family member that flag."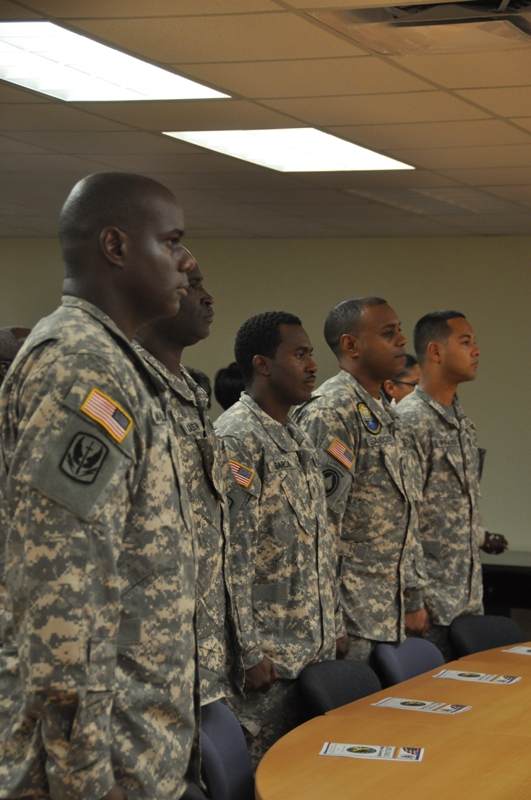 Rivera was likely emotional reflecting on two members of the V.I. National Guard, Lt. Col. David C. Canegata III and Sgt. 1st Class Floyd Lake, who were killed in a UH-60 Black Hawk helicopter crash in Iraq in 2007.
"Thank you for what you've done. I get emotional for my soldiers and airmen – it just overwhelms me with joy," Rivera said referring to his sense of pride of being the VING Commander.
Rivera added that when he took command five years ago, only 38 members of the VING had deployed, and in August, when another unit returns from Afghanistan, there will be 703 VING members who have deployed – nearly 90 percent of the entire territorial force.
The members who were honored are listed below:
Individual Deployments – Army
Col. Caroline Fawkes – Guantanamo
Lt. Col. Patricia Charles – Guantanamo
Lt. Col. Beresford Edwards – Guantanamo
Capt. Sekou Richardson – Korea
Capt. Steve Alexander – Iraq
126th Aviation – Iraq
Capt. Ayo Olanipekun
1st Lt. Andres Velazquez
Chief Warrant Officer 2 Joshua Maillard
Chief Warrant Officer 2 Sakiliba Mines
Sgt. James Gaston
Sgt. Peter Bandoo
Sgt. Junior Garcia
Pfc. Adrian Ramsden
Pfc. Benjamin Ghirawoo
Individual Deployments –Air
Master Sgt. Renee Samuel – Iraq
Tech. Sgt. Aretha Ventura -Iraq
Tech. Sgt. Michelle Magras -Iraq
Staff Sgt. Carl Christopher – Italy
Senior Airman Roy Joseph -Iraq