The V.I. Legislature will hold session Friday to consider new legislation to address the ongoing government fiscal crisis, and will be holding a Committee of the Whole hearing Jan. 26, with Hovensa officials regarding the refinery's impending closure, according to the V.I. Legislature. Details of the economic legislation were still being worked out as of Thursday afternoon.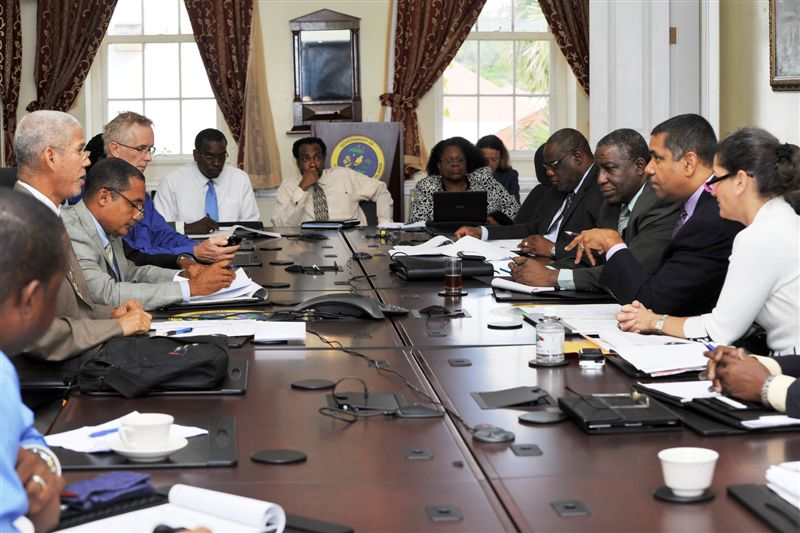 Gov. John deJongh Jr. and Senate President Ronald Russell hosted a joint meeting of the Legislature at Government House on St. Thomas Friday concerning the closure of Hovensa. Delegate Donna Christensen participated by phone.
"The Legislature and I came out of today's meeting with a shared commitment to define clear strategies as we work through the economic challenges presented by Hovensa 's decision to close its refinery on St. Croix's south shore," deJongh said in a statement Thursday night.
DeJongh said all were in agreement on a plan to establish working groups to address five initial areas of focus: alternative uses of the Hovensa facility; legal issues surrounding the closure; labor and workforce issues; the leveraging of available federal resources; and economic sustainability.
During this meeting, Russell announced Hovensa officials have agreed to participate in a Senate Committee of the Whole hearing Jan. 26, according to Government House. Russell sent out a statement announcing the meeting late Thursday afternoon.
"This meeting will provide one forum at which all information about the refinery's closure can be publicly disclosed and discussed. I proposed a single meeting in order to preclude each Senate oversight committee from holding separate and fragmented hearings," Russell said. "I am pleased at how the Legislature, the governor and the delegate have begun to work together to address the different impacts that the refinery's closure will have."
The governor opened the meeting with an overview of the steps taken by the administration in the two days since the announcement of the Hovensa shutdown. Those included contacting:
the U.S. Department of Interior and the U.S. Environmental Protection Agency.
the V.I. Water and Power Authority on securing alternative suppliers of fuel to avoid power interruption.
the Department of Justice to review the agreement between Hovensa and the government.
the Department of Human Services to ensure the continued availability of all social services programs those impacted by the closure.
the Department of Licensing and Consumer Affairs to monitor the pricing practices during the transition period.
the Labor Department to work with Hovensa to establish rapid response services for the terminated workers.
the Department of Planning and Natural Resources to review the status of the various permits held by the refinery.
DeJongh also said he will be meeting with top Hovensa officials by month's end, according to Government House.